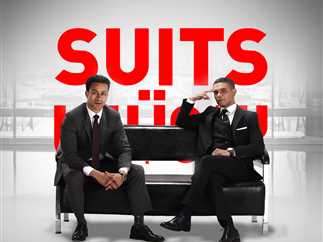 The company that produced the Arabic edition of Suits series in Egypt is facing a lawsuit to stop the its broadcast, which is currently being aired during Ramadan 2022 drama season.
The office of the Egyptian lawyer, Kamal Shoaib, issued a statement announcing that legal measures had been taken by the Orangesquare Company for Suits and Ready-made Clothes, against the company that produced the Suits series in Arabic, accusing it of not paying the price of the clothes it obtained, which the stars wear in the series.
The attorney of Orangesquare, Kamal Shoaib Office, announced that all legal measures had been taken against TVision Media Production, represented by Tarek al-Ganaini, producer of the series (Suits in Arabic), as the company obtained all the outfits and suits of the cast of the series, which is currently broadcast on CBC without paying the price of those clothes, which amount to LE 2.7 million.
It added that all criminal measures are being taken against the representative of the production company, in addition to setting the nearest session to consider the case to stop showing the series until Orangesquare obtains its full rights, for using its products without paying for them.