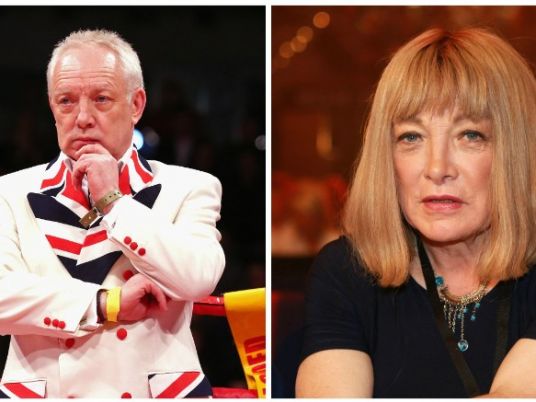 Christmas Day nearly three years ago, one of Britain's best-known sports personalities woke up in a London park; two dogs were licking his face, a smashed bottle of wine lay by his side, and prescription pills were strewn across the ground.
"That's Frank Maloney!" exclaimed one of the small crowd who had gathered around the bewildered man, better recognized as the tough-talking manager behind former heavyweight champion of the world Lennox Lewis.
Today, dressed in a fluffy maroon jumper with painted nails to match, Maloney is almost unrecognizable from the boxing promoter who tried to end his life that December 25.
After undergoing gender reassignment in March last year, "Frank" is now "Kellie." And while the voice remains unchanged, the words coming out are very different.
"For the first time in my life I feel complete and whole," says the 62-year-old in between sips of tea at her kitchen table in suburban Bromley, just south of London.
"I don't see myself as transsexual, or transgender, or trans anything. I see myself as a woman and a human being," she says, adding that her last operation — "the final piece of my jigsaw, you might say" — is now behind her.
Woman in a man's world
Having retired in 2013, Maloney has now returned to the industry which shot her to fame in the 1990s and early noughties, and manages two up-and-coming boxers for the first time as a woman.
"Whereas I was once at the top of the pile, I am now at the bottom and slowly have to work my way up in this world of boxing," she says, turning the ring which remains on her wedding finger, despite splitting with her wife of 15 years, Tracey.
"And I'm doing that as the person I always believed I should be — as Kellie Maloney."
In another life, Frank Maloney was one of the UK's most successful boxing promoters, managing Lewis when he became undisputed champion of the world in 1999, and guiding a number of other fighters to global, European and Commonwealth titles.
The "Jack-the-Lad" promoter with a penchant for flamboyant suits and tendency to "pick fights" has now been replaced with a gentler, more caring manager. These days, Kellie chats to the wives and girlfriends of boxers about her clients' emotional state — something "singly-minded" Frank would never do.
Maloney says the macho world of boxing offered a way to suppress the woman she secretly believed she was, as she tried to keep up with imposing counterparts like Don King and Frank Warren.
"I had to be this larger-than-life character, I had to keep up this tough-guy image," she says of a job that consumed her "24-7."
"I never had much chance to think about it during the day — it was only at night when I was alone in the hotel bedroom that the feelings would come back and I'd have the odd tear."
Just 'one of the boys'
The eldest of three boys growing up in a working-class Irish Catholic family in Peckham, south London, Maloney says she realized she was different from her brothers from the age of three.
"In all my dreams as a child, I was always a girl — never a boy," she says, smoothing down her neat blonde bob with one hand.
"But I just tried to do what my brothers done. In them days you couldn't afford to be different," she says of an era in London where some pubs still had signs saying: "No dogs. No blacks. No Irish."
Maloney's father encouraged his teenage son to take up boxing; they even had dreams of turning pro. But Frank's diminutive size — standing a little over five feet tall — meant the would-be boxer turned to the managerial side of the sport instead.
It wasn't until 16-year-old Maloney stumbled upon a newspaper article about model April Ashley, one of Britain's first transsexuals, that she says she began to pinpoint why she felt so different — "I thought, 'My God, this is how I feel, this is me.'"
Just over a year later, Maloney moved out of the family home and starting growing her hair long and dressing like a woman on nights out. The only person who knew about her secret double-life was her homosexual housemate and friend, Alan Ferris.
But a visit from Maloney's father 18 months later was enough to scare her from experimenting any further. Maloney cut off her hair, rejoined an amateur boxing club, and after a chance meeting with ex-girlfriend Jackie, married within six months and had their first child Emma shortly after.
Maloney's father died in 2009 without ever knowing his son's secret, while mother Maureen has remained supportive throughout the transition.
Does she ever wish she told her father the truth? "I couldn't," Maloney says, batting the question away with a wave of her hand.
Secret life
Still, Maloney continued buying women's clothes in secret — "I'd screw them up and throw them in the bin when I came out of the shop," she says.
"Because it was a relief just looking for the clothes, just being able to touch them, and feel them, and wonder what I'd look like in them."
The rise of the Internet opened up a new world of information about transsexuals, far beyond that first newspaper clipping about April Ashley. But as Maloney stayed up late at night reading their stories and contacting counselors, she also saw the media's power to destroy.
"Because I was getting more and more successful in boxing, I was terrified of my feelings ever being found out," she says, adding: "In those days even if an MP was gay, the press would destroy their careers.
"I just thought, 'I can never come out.'"
The truth comes out
Finally the strain became too much — in 2009, after decades of living with a secret that drove her to depression, Kellie revealed the truth to second wife Tracey, the mother of her two children Sophie and Libby.
"Tracey must have heard me sobbing my heart out in the kitchen and she came down and put her arm around me and said: 'What's the matter?' What have I done? Are you having another relationship? Are you gay? Are you dying?'
"And I looked at her and said, 'I'm like you,'" recalls Maloney, taking a deep breath. "'I've always believed, and I've always known, that I should have been born a woman.'
"And as I said that I knew my marriage was over. I could see it in her eyes," says Kellie, her own eyes welling up at the memory.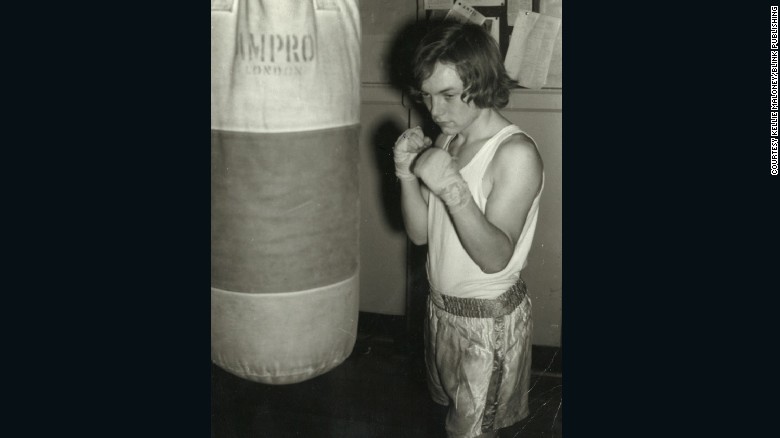 Kellie Maloney — then Frank — boxing as a teenager in 1960s.
Maloney moved out of the family home, and hoped an invitation from Tracey to join the family for Christmas three years later would spell a reconciliation.
But "I misread the signs," she admits. Later that day, already drunk and with a pocketful of prescription pills, she took their two dogs for a walk in the park with the intention of ending her life — an attempt she says was thankfully unsuccessful.
Becoming Kellie
Over the coming years, Maloney began the transformation to Kellie, studying the behavior of female presenters on TV, or watching women in coffee shops.
"I lived 60% to 70% of the time as Kellie, and I was still Frank when I went to work," she explained.
"But Frank was slowly disappearing. His hair was growing, his clothes were becoming more flamboyant … I'd look in my wardrobe and Frank's clothes were getting smaller, while Kellie's were expanding."
It's a transition Maloney had planned to do in private, until threats from the press to out her forced her to go public in August last year.
"The public has been great," she says. "I've seen some idiots on Twitter and certain boxing websites. But when I go back to the hall, the fans are very respectful.
"There's the odd joke — 'You here to do the ring cards, Kellie?' — but that's just boys being boys."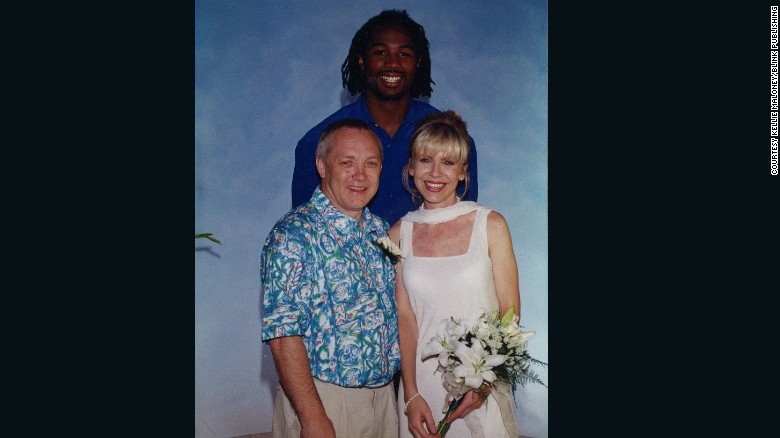 Frank and Tracy Maloney with Lennox Lewis on their wedding day.
Maloney's three daughters — who still call her "dad" — have been equally accepting, with eldest Emma staying by her side while she's had over £100,000 ($150,000) worth of surgery to feminize her appearance.
Maloney has also remained close friends with ex-wife Tracey and says they often meet up for coffee.
Maloney once said, "My gender's who I go to bed as, my sexuality's who I wake up next to." I ask her who she'd like to wake up next to now?
"I don't know. To me, that is the second chapter in my life," she says.
"I've gone out with a few men friends but nothing romantic's happened. I'm so contented and so happy, I'm not sure if I would have a relationship right now."
One relationship that hasn't changed however, is her one with boxing.
"I just love the excitement of it," she says. "The negotiations, the deal-making, the deal-breaking," she adds with a glint in her eye.
"Even if I was born in my female gender, I still would have gone into boxing."
Now she's finally doing the job she loves — as Kellie.