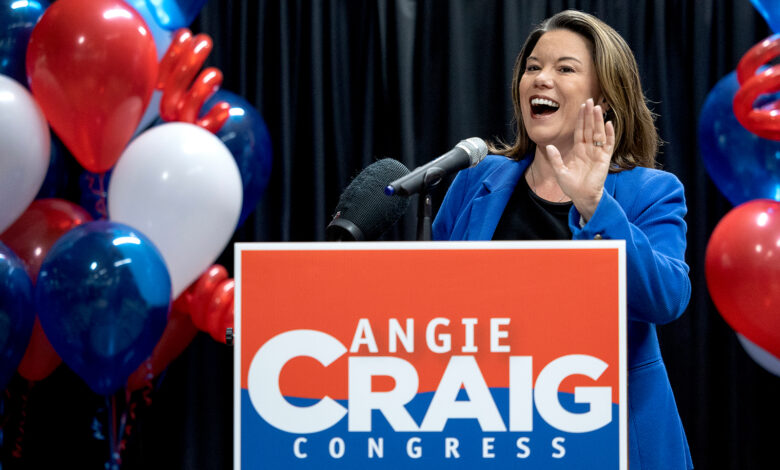 Democratic Rep. Angie Craig, an incumbent House lawmaker, defeated Republican challenger Tyler Kistner in Minnesota's competitive 2nd Congressional District.
Democrat Wiley Nickel has defeated Republican Bo Hines in a competitive North Carolina House race for the 13th Congressional District, CNN projects.
Nickel is a Democratic state senator. Hines is a 27-year-old political newcomer and former college football player who won former President Donald Trump's endorsement ahead of the primary. As a result of Trump's endorsement, the race has been viewed as a test of the former president's influence.
Democratic Rep. Matt Cartwright will hold on to his seat in Pennsylvania's 8th Congressional District, CNN projects, defeating Republican Jim Bognet in a second consecutive general election.
Cartwright beat Bognet, a former political consultant, by only about three and a half percentage points in 2020 and was considered an underdog to defend the seat again this year. But his winning streak on increasingly red turf remains intact, even as his vote-share has trended down over the years.
With the balance of the House and Senate coming down to a handful of key states, the race for control is getting tighter.
Here are some of the key headlines from the midterms as results continue to come in:
Brad Raffensperger will stay Georgia's election chief
Georgia Secretary of State Brad Raffensperger, who refused former President Donald Trump's request to "find" the votes needed to overturn his 2020 loss in the Peach State, will win reelection, CNN projects.
John Fetterman beats Mehmet Oz
Fetterman, the Democratic nominee, thanked supporters and those who voted for him after CNN projected he would win, saying, "I never expected that we were going to turn these red counties blue. But we did what we needed to do."
J.D. Vance takes Ohio Senate seat
Voters from union households in Ohio favored GOP Senate candidate J.D. Vance over his Democratic rival, Rep. Tim Ryan, which helped the Republican clinch the open seat, according to the early results of the Ohio exit poll conducted for CNN and other news networks by Edison Research.