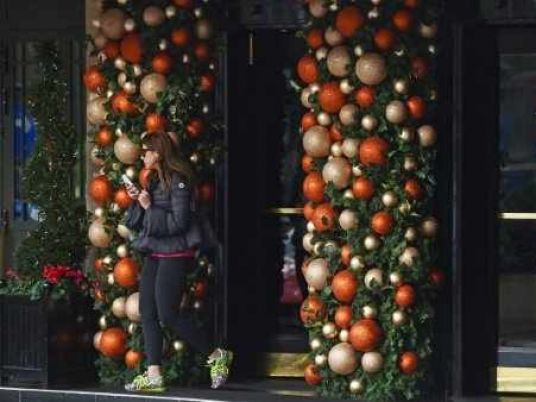 Twinkling lights, glitter and gourmet menus — all, without a single dish to wash or any trees to trim.
Spending Christmas at a hotel does hold a certain allure.
Whether you stay for a week or drop in for tea, these properties go to great lengths to offer something special for the holidays. (All prices are in US dollars.)
Claridge's, London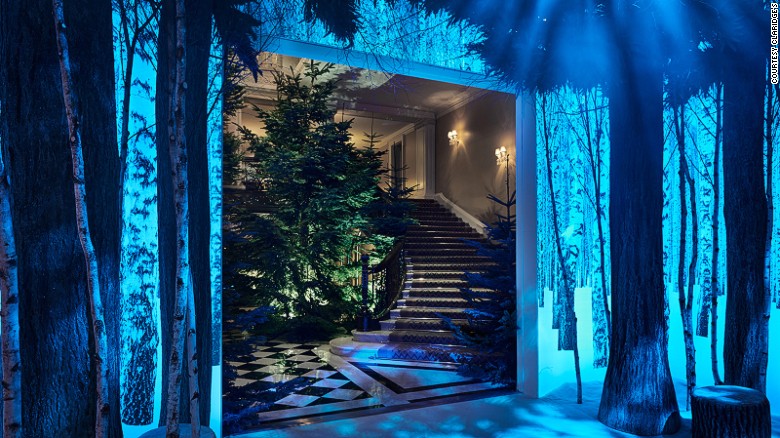 Natural greenery and photographic imagery combine to dramatic effect at Claridge's.
Horse-drawn carriages and carol singing await guests at London's Claridge's, where a two-night package from December 24-26 includes those festivities, plus accommodation, Christmas lunch and Boxing Day breakfast. Package rates start from $2,375 per room with two-person occupancy.
Holiday guests enter the hotel via a magical forest designed by Sir Jony Ive, Apple's renowned chief designer, and Apple designer Marc Newson, in collaboration with set designer Michael Howells.
Light boxes featuring black-and-white photographs of shimmering birch trees contrast with a canopy of natural green pine in the hotel's 2016 Christmas tree installation, nodding to both technology and tradition.
Hotel Sacher, Vienna, Austria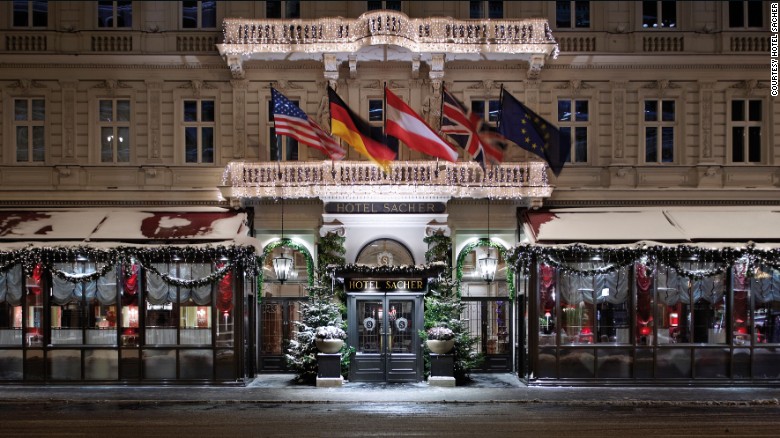 Christmas in Austria is pretty close to picture-perfect. Vienna's Hotel Sacher is home to the famous Sacher-Torte.
There are few holiday destinations more charming than Austria. Christmas markets, classical concerts and — with any luck — a blanket of snow; it just doesn't get much more festive.
At Vienna's Hotel Sacher — home of the famous torte — four-course Christmas Eve menus will be served in its Anna Sacher and Rote Bar restaurants for about $185 per person.
From midday on Christmas Day, three-, four- and five-course menus will be offered. Three-course meals start at about $125 with wine, coffee and taxes included. Brunch will also be served December 25 and 26.
For a taste of Vienna at home, the hotel ships its signature chocolate tortes, layered with an apricot jam filling, globally. Rates for Christmas week start at about $570 for a superior room. sacher.com
Fairmont Scottsdale Princess, Scottsdale, Arizona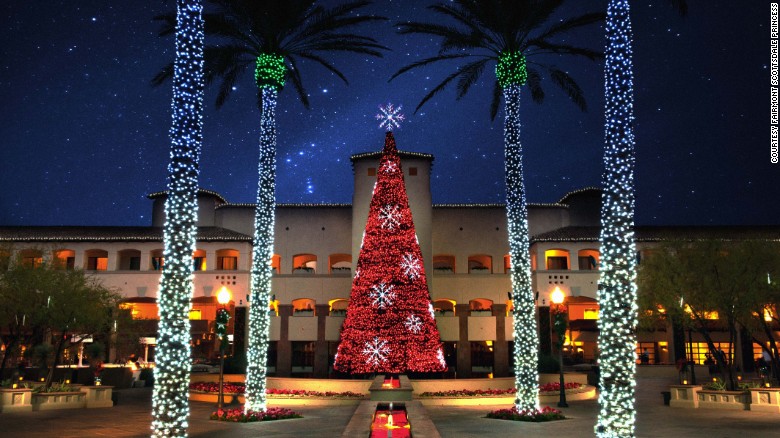 Palm trees get dressed up for Christmas at the Fairmont Scottsdale Princess in Scottsdale, Arizona.
Santa's secret headquarters, an ice-skating rink, a train, holiday characters, a Ferris wheel and 3 million lights: It's safe to say that the Fairmont Scottsdale Princess doesn't believe in overdoing it.
The resort's Christmas at the Princess festival runs through January 1 and is open to the public.
Free for hotel guests, the entrance/parking fee for up to six non-guests is $35 for self-parking.
A "Season of Giving" holiday package, starting from $199 per night, includes accommodation, a $50 daily resort credit and express access to the rides. Cox Charities receives $10 from each package. Other holiday packages are available. scottsdaleprincess.com
The Ritz, London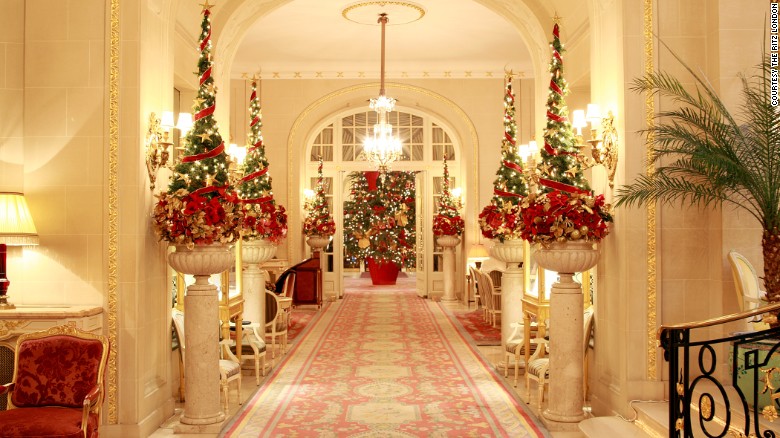 In London, The Ritz amps up its red and gold for the holidays. Gala dinners with dancing are held on Christmas Eve and Christmas Day.
The Ritz London is putting on exactly what you'd expect from the elegant property.
Gala dinners with dancing on Christmas Eve and Christmas Day will be hosted in The Ritz Restaurant (about $385 for adults, $185 for children). The restaurant, featuring ceiling frescoes, marble columns and an elaborate garland chandelier, was featured on beloved TV drama "Downton Abbey."
How to tell family you're staying in a hotel
Traditional Christmas afternoon tea, with champagne, is available in the Palm Court until December 30 (about $93 for adults, $61 for children).
A Nordic pine tree grown in Scotland towers in the lobby, dressed in traditional red and gold.
Rates for Christmas week start around $745. theritzlondon.com
Willard InterContinental, Washington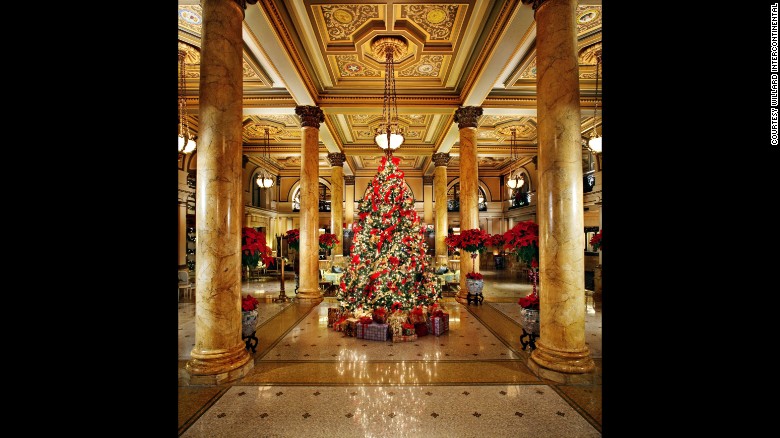 The Willard InterContinental in Washington displays White House Christmas ornaments on its stunning lobby tree.
In the United States' capital, the elegant Willard InterContinental's lobby Christmas tree is decked out with the entire line of White House Christmas ornaments.
Afternoon tea — with finger sandwiches and pastries — is served almost daily in December ($52 for adults) in the hotel's Peacock Alley.
Reservations are recommended for tea and the hotel's Christmas Day brunch (202-628-9100).
Local choral and vocal ensembles give free performances in the lobby from 5:30-7:30 p.m. nightly through December 23.
Right off the lobby, the historic Round Robin Bar will be serving up seasonal cocktails such as the Jingle Bell Julep and the Round Robin Hot Noggin Eggnog.
Room rates start at $209 per night for Christmas week. washington.intercontinental.com
Four Seasons Hotel George V, Paris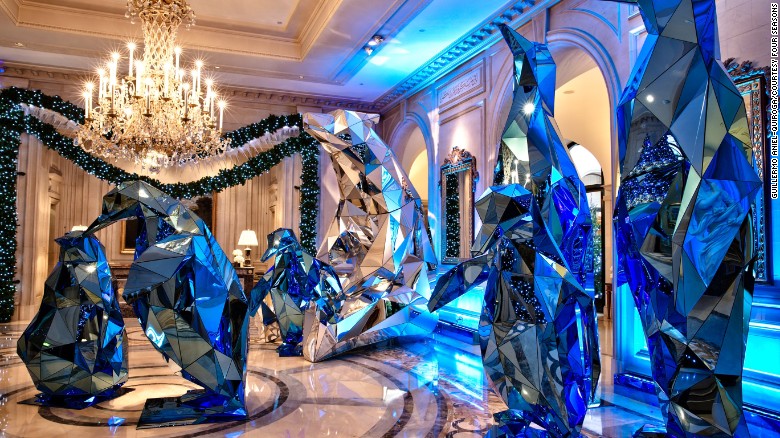 Reflective penguins and polar bears have moved into the Four Seasons Hotel George V in Paris.
In Paris, a colony of dazzling reflective penguins and polar bears returns to the Four Seasons Hotel George V. The mirrored creatures inhabit the lobby and courtyard. Ice Lounge guests will receive a designer parka to wear as they sip and snack in the chilly courtyard.
At Le Cinq, the hotel's three Michelin-starred restaurant, an elegant Christmas Eve dinner featuring sea urchins, foie gras, free-range capon and preserved grapefruit millefeuille — among other dishes — is available for about $550, excluding beverages.
Christmas Eve dinner will also be served at L'Orangerie and La Galerie (about $340, excluding beverages).
Rooms for Christmas week purchased 21 days in advance start at about $1,160. fourseasons.com/paris/
The Plaza, New York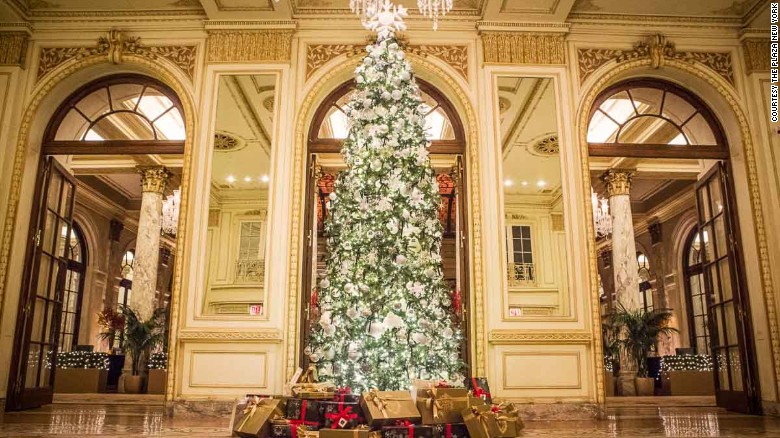 At New York's Plaza Hotel, afternoon tea is a holiday tradition.
Tea time and Christmastime coincide at The Plaza's elegant Palm Court, where three holiday tea menus are served through January 3.
The New Yorker Holiday Tea ($95) features an array of sweets and savories, including pumpkin cheesecake and lox and bagel with pickled cucumber, while the Champagne Holiday Tea ($125) adds a little effervescence to the occasion.
The hotel's most famous fictional resident lends her name to the Eloise Holiday Tea, available for $50 per child 16 and under.
On Christmas Day, a grand buffet ($145 for adults, $65 for children) will be served in the Palm Court. Rates for Christmas week start at $925.
fairmont.com/the-plaza-new-york
The Breakers, Palm Beach, Florida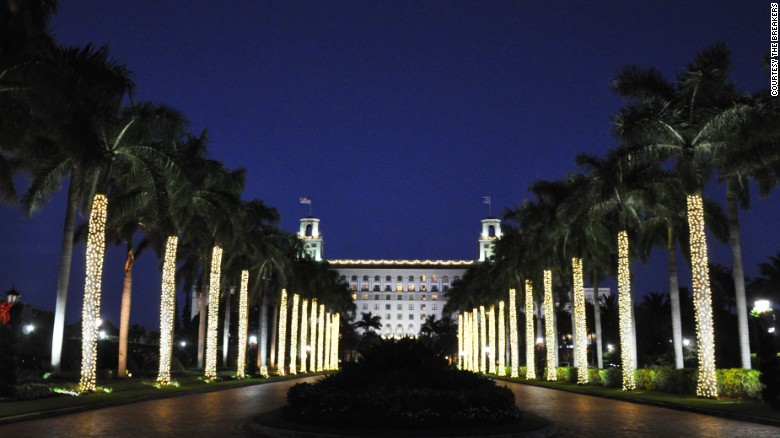 The Breakers in Palm Beach, Florida, welcomes guests along an alley of twinkling palms.
Founded by Standard Oil Co. magnate Henry Morrison Flagler, The Breakers Palm Beach carries its lavish traditions right through the holiday season.
The oceanfront Italian Renaissance-style resort dazzles with 160,000 sparkling lights. Holiday tea is available at HMF in December for $55 per person.
On Christmas Day, brunch will be served in The Circle, a stunning space featuring 30-foot frescoed ceilings and ocean views ($145 for adults and $50 for children). There's also a Christmas dinner buffet in the Ponce de Leon ballroom ($150 for adults, $60 for children 11 and under).
Reservations are recommended for holiday dining (888-273-2537).
For Christmas week, the starting rate is $939. thebreakers.com
Waldorf Astoria, New York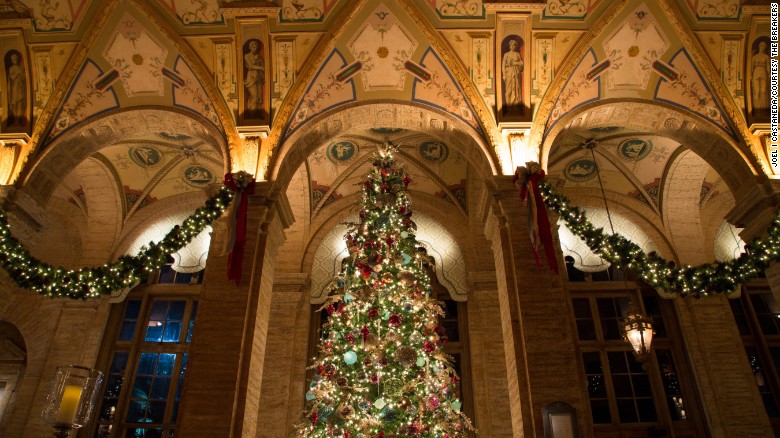 Inside, holiday decorations heighten the drama in the Renaissance-inspired lobby.
Filet mignon, sesame-crusted tuna, veal chops and prime rib are all on the four-course Christmas Eve menu at the Waldorf Astoria's Bull & Bear restaurant ($165 for adults, $75 for children).
On Christmas Day, those lucky enough to score reservations will be tucking into caviar, crab, lobster, stuffed leg of lamb, eggs Benedict and more during brunch in Peacock Alley ($175 for adults, $95 for children 12 and under).
Finding a table for brunch at the Waldorf on Christmas Day can be tricky. Fortunately, a bountiful spread is available at the hotel every Sunday.
Rooms start at $305 during Christmas week. waldorfnewyork.com
The Roosevelt, New Orleans, Louisiana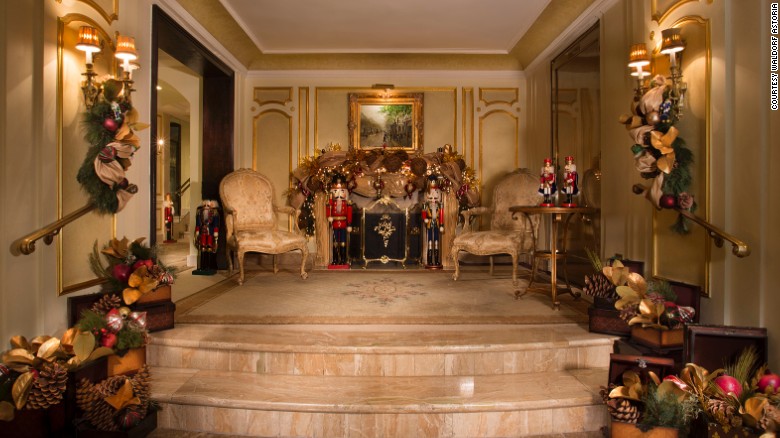 Trimmed for the holidays, the Waldorf Astoria in New York hosts elaborate Christmas meals in addition to its well-known Sunday brunch.
The Roosevelt New Orleans' annual Teddy Bear Tea comes with a commemorative stuffed animal for kids.
The event, complete with Santa and his elves, is held on Saturdays and Sundays in December and December 19-24. The tea is $48 for children ages 3-10 and $68 for ages 11 and above. Sparkling wine and mimosas are included in the price for adults.
On Christmas Day, brunch will be served in the Waldorf Astoria Ballroom ($95 for ages 11 and up, $49 for children ages 3-10, excluding tax, gratuity and service charge), and later there's a four-course Christmas dinner in the Fountain Lounge ($79 for adults, $75 for children).
Holiday rates start at $199 for Christmas week. therooseveltneworleans.com