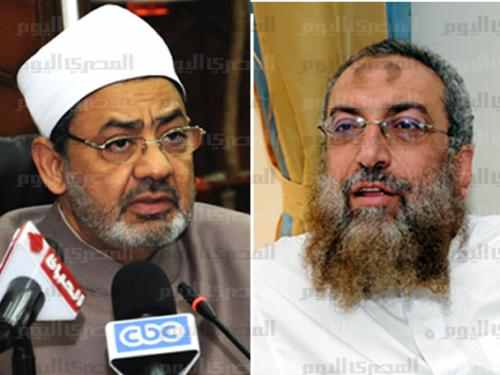 Al-Azhar Grand Sheikh Ahmed al-Tayyeb stated that spilling the blood of Muslims as well as non-Muslims is prohibited in Islam during his meeting with French President Francois Hollande on Tuesday.
He asserted that confronting terrorism is the duty of everybody, and that the Muslim community is ready to do all it can to help France combat the phenomenon.
Hollande received Tayyeb in Paris and reviewed with him recent actions taken by France to combat extremism. French Foreign Minister Jean-Marc Ayrault and minister of interior Bernard Cazeneuve took part in the meeting.
Tayyeb expressed al-Azhar's appreciation of France's current efforts to support the Palestinian cause, and praised the Hollande's defense of Islam as a religion of tolerance rather than terrorism.
Tayyeb also clarified that fighting extremism requires a comprehensive vision formulated through unanimous cooperation. More care must be taken of young people, he added, and a greater effort exerted to raise their awareness of the risks of extremism and terrorism.
Al-Azhar, according to Tayyeb, supports continuous communication between all cultures and civilizations to spread moderation, peace, coexistence and the renouncing of violence and terrorism.
For his part, Hollande highlighted the necessity of making every effort to help spread a culture of dialogue among the religious communities of France. He recognized the importance of taking such steps at a time when the world is facing challenges stemming from a failure to do this in the past.
Hollande also stressed the importance of the meeting this week between Tayyeb and Pope Francis in Rome, saying it took place at a critical time when the promotion of coexistence and dialogue between religious groups is needed.
Tayyeb and Pope Francis' meeting, which took place on Monday, has been described as "historic".
A statement issued by Elysee said that Tayyeb is spearheading efforts from the most prestigious institution of Sunni Islam to fight extremism. French authorities welcome such efforts, said the statement.
Hollande has welcomed commitments made by representatives of Islam in France to take part in efforts to combat extremism in France, according to the statement,
Ahead of his visit to the Elysee Palace, Tayyeb placed flowers outside the Bataclan theater to honor victims who lost their lives during terrorist attacks in Paris on November 13 of last year, when Gunmen opened fire on the venue during a concert, leaving 90 dead and hundreds injured. A further 40 people were killed in a string of coordinated attacks in and around Paris on the same evening.
Edited translation from Al-Masry Al-Youm