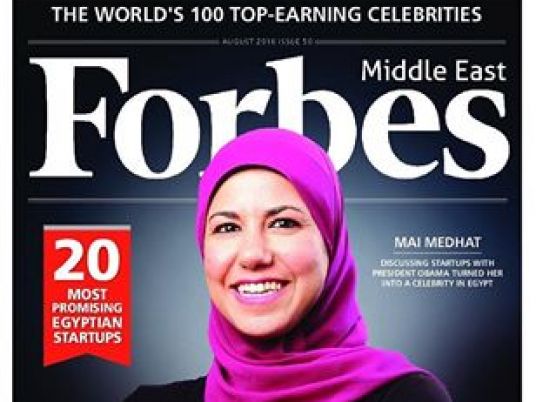 This week, Egyptian readers of Forbes magazine would have been intrigued to see three young Egyptian entrepreneurs taking pride of place on the front cover, in an edition including a feature on Egypt's 20 most promising startups. With the help of Omar Gabr, Moataz Soliman and Mai Medhat, Forbes shed light on twenty different successful startups launched by young Egyptian enterpruners from different backgrounds, from 2010 to 2016
The twenty most promising 20 Egyptian Startups shon in the feilds of media, healthcare, energy, finance, education, retail and real estate, raising up to US$24.2 million from 38 angel investors and 17 venture capitalists.
Khuloud Al Omian, Editor in Chief of Forbes Middle East said, "The startup scene in Egypt is still at a nascent stage and we are pleased to encourage the future of entrepreneurship in the country. The resilience, vision and determination of these new leaders should be applauded and we look forward to watching them grow as they develop their ground-breaking businesses."
"An interesting fact in our research was that more than half of these startups were founded between 2011 and 2013, when Egypt was in the middle of a transition phase. These startups were inspired by entrepreneurs who have used social media and technology to their full advantage,"Al Omian said.
Judging by the facts, it certainly seems that since the 25 January revolution Egyptian entrepreneurship has become one of the Middle East's booming industries. Particular success has been seen from the youngsters. In recent years, several young Egyptians have topped rankings for their success in the field, with representatives of the country consistently making the top of Forbes under 30's social entrepreneurship listings.
In 2015, Cairo was ranked by Forbes as one of the world's top 10 cities in which to launch a startup. Alisee de Tonnac, the founder of emerging market startup investors, Seedstars World, told the magazine at the time that young and brilliant minds in Egypt are helping to cultivate an entrepreneurial spirit in the country. This, she believes, is what transforms innovative ideas into concrete businesses.
For Forbes' feature this month, questionnaires were sent to 350 startups, contacted through local business networks such as TIEC, A15, Cairo Angels, Flat6Labs, and Sawari Ventures, and through personal recommendations.
"We evaluated them based on their potential global and regional appeal, the quality of their investors (professional VCs), and the amount of funding," said Forbes. "We selected the top 20, with $140,000 being the cut-off," Forbes said.
Instabug
Instabug founders Omar Gabr and MoatazSoliman on the cover of Forbes
Instabug is a platform for mobile phone application developers which helps them better communicate with their users, collaborate with their teams and build better applications (apps). With the explosion in mobile apps, Instabug allows regular mobile users or beta testers to submit feedback or report bugs about any mobile app by simply "shaking" their devices without the need to leave the app.
Not only that; users can also take screenshots and record voice messages of technical problems in apps and send them to Instabug, who send the evidence of the problem to the app's developer to be fixed. The developer or support team of the faulty app can then use Instabug to respond to a user's problem via live, two-way conversation with the user.
The application was launched in 2012, after founders Omar Gabr and MoatazSoliman met while studying at Cairo University. Four years down the line, Instabug is running on over 100 million devices and has reported more than 10 million bugs already. In April 2013, the application ranked first at the MIT Arab startup competition and after a short period, the co-founders flew to Silicon Valley to attend the MobileBeat 2013 event, where Instabug announced their public beta and were listed among the top 10 ventures attending the event.
This year, the application has been selected to participate in the Silicon Valley-based Y Combinator (an accelerator program for start-ups) and has also announced the launch of a new 4.0 version of the app.
With customers including Yahoo, PayPal, Soundcloud, and Sou, the app raised its capital of $1.7 million in seed funding from Palo Alto, California-based VC Accel Partners, and prominent angel investors, including the Egyptian entrepreneur AmrAwadallah. Forbes revealed that the team plans to open an office in San Francisco by the end of this year.

Yaoota
Sherif al-Rakabawy, the man behind Yaoota
"Yaoota," or, "Yaoota magnoona" (crazy tomato) is the common market call of greengrocers, jesting at the volatile price of tomatos in Egyptian street markets. The aptly named startup is tied in with the idea of Egypt's shifting prices, as it is a search engine which compares prices on products from various Egyptian online stores. The site aids shoppers to navigate online shops like Jumia and Souq, and find and buy items. Forbes described the startup as "the Egyptian version of Google Shopping".
While studying at the University of California in Berkeley, Sherif ElRakabawy developed the idea for the site. Along with his school friend and mechanical engineer, Mohamed Ewis, Yaoota was launched in 2014.The participating retailers pay the startup ten cents whenever a user clicks through to its site from search results.
Yaoota is now based in Abu Dhabi after a $2.7 million injection from Abu Dhabi-based investors, Group KBBO, saved the startup from folding last year.
Wuzzuf
AmeerSherif, creator of Wazzuf
In the wake of the rising indices of unemployment rates in Egypt, Wuzzuf has helped more than 60,000 people to find jobs in more than 5,000 companies.
Wuzzuf is an online recruitment platform in Egypt serving more than 300,000 job seekers monthly, and a place where more than 3,500 of Egypt's top employers actively post job vacancies and search for employees.
Wuzzuf was founded by 33-year-old Ameer Sherif who graduated from Cairo University in 2004 with a B.sc in electronics and computer engineering.
"Last year, [Wuzzuf] raised $1.7 million in a series A round from European and Silicon Valley venture capitalists," said Forbes report.
In a press statement in 2015, Sherif said that Wuzzuf is planning to expand its operations in 2016 to UAE and Saudi Arabia.
Diwan Videos
Ossama Youssef, founder of Diwan Videos
Diwan Videos is a Multi-Channel Network (MCN) and media production company based in Dubai and Cairo. Regionally, Diwan is the most watched YouTube MCN in the Middle East and Africa and the only regional network which ranked among the top 70 MCNs across the globe.
In 2010, Diwan Videos was established by 37-year-old Ossama Youssef. Having obtained a translation masters from Al-Azhar University, Youssef changed direction in 2009, foregoing a PhD in California to work on his Diwan Videos venture.
Only two months after the project launching, the idea was hailed by media production giants in Egypt — including Al-Mehwar TV and Dream TV — and the company signed agreements with more than 30 local media clients. Shortly after, Diwan Videos became a YouTube partner, enabling it to offer clients more benefits, establish new standards for monetization, channel optimization and copyright protection.
Moreover, Diwan offers a consulting service for online advertising, sponsorship and branded productions, including product placement and digital campaigns. The project is also known for introducing high quality animation services to the market. Basmet Amal radio show, hosted by the Muslim activist Amr Khaled, has had episodes of the show converted into digitally distributed animation clips.
"Currently Diwan manages a diverse collection of talent across different platforms, including YouTube, Twitter, and Vuclip. It generates nearly 600 million views per month. This past April, it raised $5 million from a prominent Dubai executive," Forbes report read.
Vezeeta
Amir Barsoum, the brains behind Vezeeta
Traditionally, going to the doctor is not an easy process in Egypt. For those who have been caught in a dilemma over the lengthy lists of practices to choose from, squeezed by expensive fees or made to spend hours in a waiting room, Vezeeta now makes it much easier.
Vezeeta is a pioneering healthcare platform that saves patients the hectic process of booking medical appointments. Similar to ZocDoc in the US, the platform allows patients to make an appointment with a doctor online, which is easier for the patient and both practically and financially beneficial for the physicians too.
With his long experience in the medical profession, Amir Barsoum launched Vezeeta in 2012 after working as a regional manager for the pharmaceuticals company, AstraZeneca, along with Ahmed Badr, who worked at an IT consulting firm.
"Patients can select doctors in nine cities of Egypt, and post reviews… There are some 2,000 doctors covering more than 30 specialties in their network," Forbes said.
The project has achieved big success, attracting more than $3.5 million from regional investors.
Elves
The founders of online 'personal helper' service Elves
For those needing a helping hand to get odd jobs done, online platform Elves provides a natty solution.
Capitalizing on the rise of the "concierge economy" – that is – the provision of services (home delivery, private transport etc.) through the click of a button, Elves is a chat-based platform enabling customers to request a service via text message to one of the sixteen "elves" on the company's staff team to buy products for them, book tickets, make hotel or restaurant reservations, or arrange deliveries for them.
Elves was developed in 2016 by husband and wife team Karim Elsahy and Abeer Elsisi, along with serial entrepreneurs Kareem Diaa, Khaled Gomma and AbdelRahman Zohiery.
"Before founding Elves, they formed Konnecti, which matches businesses with customers in the US," Forbes said.
Aqarmap.com
Amad Almsaodi of Aqarmap
With Egypt suffering an ongoing economic crisis, real-estate prices have been on the rise, while the process of buying or selling a unit has become somewhat confusing. AqarMap.com makes things easier with its rich search engine that enables customers to navigate the real-estate market from the comfort of home.
The startup was launched in April 2010 by the Yemeni-American AmadAlmsaodi who was a project manager in charge of e-commerce at Boeing in Seattle. He graduated with a bachelor's degree in information systems from the University of Washington and then decided to set up business in Egypt due to the cheap costs and the abundance of talent.
"To my surprise, the real-estate industry in Egypt was much sexier than the nearby markets, including the GCC countries," Almsaodi told Forbes.
The startup's website has sold more than 11,000 properties worth $700 million in Egypt and Saudi Arabia.

Eventtus
Mai Medhat, the co-founder of Eventtus
Eventtus, founded by Mai Medhat, is an online platform and mobile app for event planning, networking and ticketing. It is a hub where users can obtain information about events, access listings of speakers, check agendas, see live announcements and interact with others connected to an event on the app.
"A while back, I heard that the event Startup Weekend was being launched in Cairo for the first time, so I went along with a friend to find out about startups, to meet mentors and entrepreneurs. It was very hard to network and meet people at the event because there was an obvious divide between the event organizers and the attendees," Medhat said at the GES.
"A week later, we attended another event and had the same experience, so we began to think about a better way for organizers to manage events in order for attendees to get the most out of the opportunity, network and share their experience. We did our research and were very passionate about the idea; we felt we could contribute something to the event space. We quit our jobs and dedicated all our time to developing the application."
Medhat said that the company now has two offices, in Cairo and Dubai, and the app has a large usership, a steady flow of traffic and is a fully functioning networking platform. She said the app is helping people to get together by connecting them through events.
"It was not easy at all," Medhatrecalls. "It was very challenging but exciting, and we had our ups and downs. When we began, we did not know where to start. There was no online information on the procedures for registering companies, no lawyer for startups to help us with the process. We had to go through everything by ourselves, which was a drain on our time, energy and money," she said.
Medhat appeared on a filmed panel discussion alongside US President Barack Obama and Facebook CEO Mark Zuckerberg, to tell the world about Eventtus.
"They have raised $425,000 from Cairo Angels, Vodafone Ventures, Middle East Venture Partners, and Raed Ventures. So far, they have helped organizers pull off more than 7,500 events, primarily in Egypt and the U.A.E," Forbes said.

Moviepigs
I
Perihan Abouzeid, the woman behind MoviePigs
If you are a Middle Eastern citizen and residing US or Canada, watching an Arabic-language movie could prove a little difficult. Responding to the challenge,Perihan Abouzeid launched an online platform streaming high-quality Arabic films targeting Arab expatriates and cinema aficionados in North America and Canada. The platform provides users with a means ofconnecting with Arab filmmaking talent, while promoting independent Arabic-language cinema abroad.
"MoviePigs is a combination of movie streaming service Netflix and KickStarter, the crowd-funding platform for creative projects," the Forbes report said.
Movie buffs from all over the world can fund or watch independent Arabic films. Subscribers pay $6.99 a month. Moviepigs was established in 2015 by Abouzeid, a graduate of MIT's Sloan School of Management, along with Hanyal-Kerdany, a graduate of electrical engineering fromAin Shams University in Cairo. They were both keen to respond to the lack of Arabic-language movies available in the US.
Abouzeid was also the founder of Qabila Media Productions, a digital content creator that operated across the Arab world. In another incarnation, she worked as a business strategist with Google Ireland, and she was awarded as the Best Female Entrepreneur from the MIT Enterprise Forum.
Edfa3ly
Mohamed Attya, co-founder of Edfa3ly
Ordering anything from any foreign country could prove very expensive, due to customs charges and shipping fees in Egypt, but Edfa3ly will help keep the costs down. Edfa3ly is a platform for Egyptian consumers who want to shop for products from other foreign countries with no hidden fees or expensive shipping costs. It also facilitates the ordering and shipping processes.
It was launched in 2011 by the business majors Mohamed Attya and Mohamed Hisham, along with Ahmed Mohamed, a computer engineer from Ain Shams University. The project started with capital worth LE120,000 and then jumped to $1.25 million from various investors, including Tamkeen Capital, ACE Angel Partners along with other 500 startups.
Zee3
The man with the microphone, Sherif Hossny
Four years ago Zee3 (Broadcast) created a mobile recording booth, and journeyed through the towns and cities of Egypt interviewing ordinary citizens, giving them the chance to express themselves and showcase their talents.
Given a microphone, "People would complain about their families or express their love, and out of this we discovered many talents," the official Facebook page said.
Whilst touring the country, founder SherifHossny received requests from people to videotape them performing a song.
In 2015, Zee3 showcased more than 400 talents across 25 cities, seeking to discover stars of humble origins.
"Hossny has raised $1.6 million, posts these amateur performances on his website, which has racked up so far 25 million views," the Forbes report said.

Chiano 2015
Safe social networkers, Zewail and Nar
Chiano is a social networking platform that provides users with more security than the international giant, Facebook, as it allows social networkers to control their content and what information is shown publically.
The networking application allows users to control and select their online interactions, manage the content of their personal social network pages and benefit from more tailored privacy choices.
Chiano was launched in 2015 by Ali Zewail, an IT firm manager in Cairo, along with software developer Mohamed Nar.
IT has raised $1.3 million, mainly from angel investors, and has 35,000 registered users so far.

Biodiesel Misr
The green fingers behind Biodiesel Misr
In response to the global campaign to "go green", Biodiesel Misrlaunched Egypt into the biofuels market with the ambitious dream of bringing renewable energies to Egypt.
The company seek to encourage domestic investment in clean fuels so that local energy demands can be satisfied in an environmentally friendly way.
Biodiesel Misrwas founded in 2013 by Mahmoud AbouElrokabafter he was inspired by the availability of biodiesel in UK petrol stations. AbouElrokab now has contracts with restaurant chains in Egypt to collect their used cooking oil to make a cleaner fuel, which he can sell to petroleum companies to be blended with diesel.
"He produces 600 metric tons of biodiesel a month," Forbes said.
Mumm
Abdel Rahman cooked up the idea for Mumm
Both talented home cooks looking to make a quick buck and consumers craving home cooking have had their needs met in one, in the form of the platform, Mumm.
This home delivery catering service provides home cooks – often women – with a stable source of income, employing them to conjure up homely dishes to order for customers looking for comfort cooking in the place of restaurant cuisine or fast food.
The idea for Mumm was conceived in 2015, after founder Waleed Abdel Rahman spent some time living in Beirut, reliant on expensive and often unhealthy restaurant food to feed him.
Rahman's yearning for reliable and hearty home cooking inspired him to create the Mumm website, offering a large menu of traditional Egyptian dishes at reasonable prices, including the national favorite Molokheiy, okra stews, filled feteerpastries, and meat dishes.
Abdel Rahman was the general manager of a food and Beverage Company before becoming managing director of MIT Technology Review's Arab Edition.
Mumm meals cost on average $3 to $5, withabouta third of the profit going to Mumm and its cooks.They guarantee to deliver orders within 90 minutes.
Elwafeyat
The Wafeyat team
At first glance, the title El Wafeyat (deaths) might not sound the most appealing of ventures – especially for those who might be reminded of a loved one lost.
In fact, this online business is devoted to producing thorough, excellently written obituaries.
After experiencing their own personal losses, Cairo University classmates Omar Hamdalla, YousefElSammaa and NesmaElFar teamed up with Con O'Donnell and Ashraf Maklad to form Elwafeyat in 2013.
Far from the expensive, often poorly written obituaries in print newspapers, this startup enables people to publish obituaries online, notify relatives and friends of a passing and allows people to pay their respects by posting condolences.

Nafham
The team behind the Nafham vision
Nafham is a free online K-12 educational video platform that provides students with 5-15minute educational video lessons covering the Egyptian national curriculum.
Categorized by grade, term, subject and academic schedule, the crowd-sourced service makes it easy for students to navigate to the lesson they need in seconds.
With more than 23,000 videos and 500,000 monthly users, Nafhan brings the national syllabus to life with creative and engaging multi-media content for young learners.
Mostafa Farahat and Muhammad Habib worked at a Vodafone digital publishing and marketing company along with Ahmed Alfi, the chairman of Sawari Ventures. The idea for Nafham was incubated here, and launched in 2012.
"The startup earns revenue through ads from customers, such as the American University of Cairo, but plans to add a premium subscription service," Forbes said.
Tagaddod
Founders of renewable energy company,Tagaddod
Based on a similar concept to Biodiesel Misr, Tagaddod is a renewable energy and waste management company which produces biodiesel from cooking oil used by hotels and restaurants, providing them with replaceable containers and free shipping in return for the oil.
The startup was founded by Nour El-Assal along with Ahmed Raafat and Mariam Afifi, who graduated in 2013, each with a different university degree. According to Forbes, the project was put into action in 2015.
"The company says it plans to produce 5,000 metric tons of biodiesel per month in four years, up from 100 metric tons a month currently," Forbes said.
Feloosy
One half of the Feloosy team
Feloosy (My Money) is a platform enabling users to rationalize their savings based on the price of products they are saving for, or things they aim to invest in. This smart money start-up gives clients the tools they need to budget and set goals, and connects them with investment partners.
The platform is free of charge. Customers create an account, which is managed by Feloosy based on the individual's financial goals and risk profile.
After working in London, Karim Beltaji and Aly Kouchouk quit their finance jobs in 2015 to form Feloosy.
"Why let your money just sit there making little, if any, return? With Feloosy your money works for you without taking excessive risks. We are not a get-rich-quick scheme; we enable you to safely reach bigger goals," The official website of Feloosy reads.
Taskty
Ahmed Galal Arara, the handyman behind Tasky
In Egypt, finding proficient and qualified craftsmen is like searching for a needle in a haystack. But Tasky is trying to turn the tide by building a database of reliable skilled workers.
Tasky is an online platform for home maintenance, listing workers, prices and package deals for services including plumbing, carpentry and house cleaning. If a customer is not satisfied, Tasky will make sure either the job is redone or the money is refunded.
The startup is based in Tanta city but its services are also available in Cairo and Alexandria.
Founder Ahmed Galal Arara's dental business was not doing well after the 2011 revolution, so in 2012 he decided to shut his clinic down and launch the online venture.
Arara shares the business with Ahmed Abdelmoaty, a graphic designer, and Ibrahim Abdeen, a software engineer.
IFix
iFix founders, Mohamed Fayez and Omar Galal
In less than 60 minutes, you can get your broken Smartphone fixed with iFix – and with lifetime warranty.
iFix is a newly launched mobile repair service run by a team of expert mobile technicians. The team will come to a client at their home or office to repair broken smartphone.
Waiting days to get their broken smart phones fixed was the reason that pushed founders Mohamed Fayez and Omar Galal to take matters into their own hands.
Two American University graduates with degrees in engineering and computer science respectively, Fayez told Forbes that iFix values secure data privacy and the guarantee of lifetime warranty.