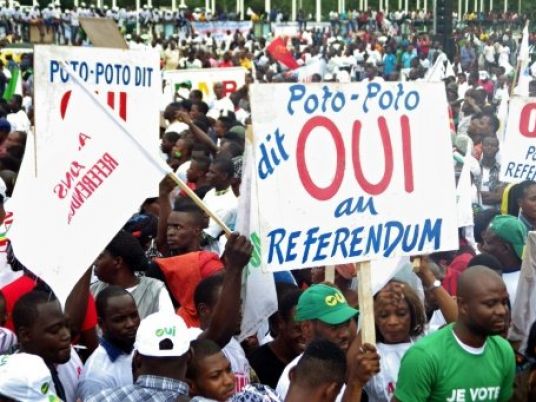 A Congolese opposition leader on Tuesday branded official referendum results claiming a landslide win for President Denis Sassou Nguesso's bid to extend his 31-year rule as fraudulent.
"From what we could see on the day of the vote, the announcement that turnout was more than 72 percent is extremely scandalous," Clement Mierassa told AFP, branding the results a "fraud".
"It shows bad faith and dishonesty. The results were fixed," said Mierassa, who heads the Congolese Social Democratic Party and is a leading member of an alliance that had called for a boycott of Sunday's referendum.
Interior Minister Raymond Mboulou on Tuesday announced a 92.3 percent win for Sassou Nguesso's bid to change the constitution, effectively allowing the longtime leader to run for a third term.
"The draft text of the new constitution has been adopted and will come into force as soon as it is put into effect by the president of the republic," Mboulou said.
Official results showed turnout was high at 72.4 percent, though on Monday an opposition leader had said only 10 percent of Congolese voted.
According to reports by several AFP journalists in the capital Brazzaville, second city Pointe-Noire and several other areas of the central African country, people had largely stayed away from voting offices on the day.
There were however long queues of voters near the presidential palace where Sassou Nguesso, one of Africa's longest-serving leaders, cast his own ballot.
The referendum proposed two changes to the constitution, which currently disqualifies Sassou Nguesso, 71, from running for re-election in 2016 because it stipulates a maximum age of 70 for presidential candidates and limits the number of mandates to two.
Sassou Nguesso is over the age limit and has already served two consecutive seven-year terms.
After beginning his career in the military, he took power in 1979 and has been in office ever since, except for a five-year period.