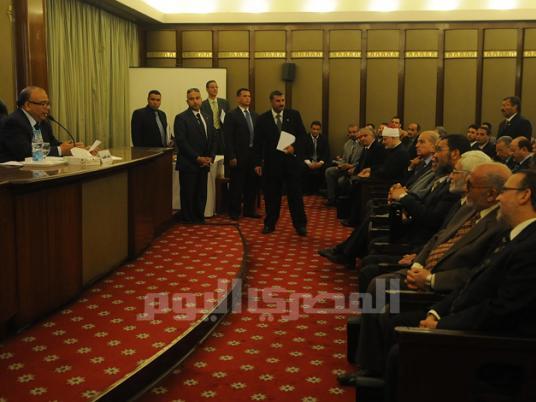 Freedom of religion, the fate of the Information Ministry and the possibility of re-staging presidential elections after the constitution is drafted were all discussed during the Constituent Assembly's meeting on Wednesday.
The assembly's rights and freedoms committee discussed eight out of 17 articles related to freedoms, agreeing that the article on freedom of religion should prohibit the practice of religious rites other than those of the three Abrahamic religions.
State-run news agency MENA reported that two members disagreed with this decision, basing their argument on the Qur'anic verse that says, "Whosoever wills let him believe and whosoever wills let him disbelieve," and on article 46 of the 1971 Constitution that left freedom of belief and practice open.
The committee differed with assembly member Manal al-Taiby, who called for including the word "ethnicity" in the respective articles, claiming there are no ethnic differences in Egypt.
"The word exists in most constitutions and charters of the world and in our law on political parties," Taiby said. "Why not include it in the constitution if the Salafi Nour Party itself agreed to it?"
Meanwhile, also during Wednesday's meeting, the Muslim Brotherhood's Sobhi Saleh said that the majority of the assembly is for cancelling the Information Ministry and instead forming a public service unit that would be autonomous from the government, Al-Masry Al-Youm reported.
"The final decision on this would be announced after the new government is formed," he said.
According to Al-Masry Al-Youm, Saleh also said that the assembly has formed a committee to decide whether President Mohamed Morsy should stay in office after the new constitution is drafted, or whether the assembly should then call for early presidential elections.
MENA reported that Hassan Ibrahim, a Constituent Assembly member from the Freedom and Justice Party, said that Presidential Elections Commission Secretary General Hatem Bagato has been invited to meet with the assembly to discuss the role of a new supreme elections commission in the new constitution.
The Constituent Assembly also agreed that the new constitution would stipulate that the reports of the Central Auditing Organization would be published for public view, MENA said.
Combined and edited translations from MENA and Al-Masry Al-Youm