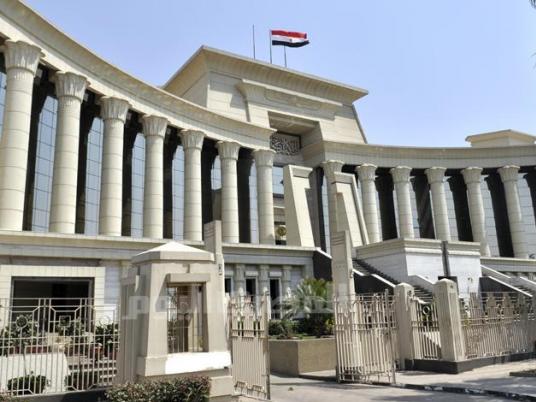 The Supreme Constitutional Court will hold an open session to consider challenges to two laws in cases that have significant implications for the country's future.
The court is reviewing the Presidential Elections Commission's challenge to amendments known as the Political Isolation Law as well as the Supreme Administrative Court's ruling regarding a parliamentary election law.
Judicial sources said the court would allow a limited number of journalists to attend the sessions, but that photojournalists, satellite TV cameras and mobile phones would be banned from the courtroom during the hearing scheduled for Thursday.
Parliament and the ruling military council, in its capacity as executive authority, had approved amendments to the Political Rights Law stripping top Mubarak officials of political rights for a decade, including the ability to run for office. Presidential candidate and former Prime Minister Ahmed Shafiq was briefly disqualified from the race under the law, until the Presidential Elections Commission reversed its decision and referred the law for constitutional review.
Shafiq's lawyer Shawky al-Sayed said he was ready to make his arguments against the law's constitutionality, adding that the debate has been exploited by some for the purpose of abuse, defamation and attacks on civil rights.
Security forces and the armed forces have stepped up security around the court since Tuesday, surrounding the building with armored vehicles and military police in anticipation of protests or clashes that could delay the proceedings. Activist groups, including April 6 Youth Movement and the Alliance of Egyptian Revolutionaries, are expected to organize protests outside the court against Shafiq.
On Thursday, the court's panel of legal advisers recommended that it reject the case and, failing that, suggested that the court declare the law unconstitutional.
In their report, the court's commissioners said that the Presidential Elections Commission did not have the jurisdiction to refer the law for review because the elections commission is an administrative, not a legal body, despite the fact that it is composed of senior judges, including the head of the Supreme Constitutional Court itself.
The commissioners simultaneously presented another recommendation that the law should be deemed unconstitutional in the event that the court accepts the elections commission's referral, which would mean that Shafiq remains in the race.
While the commissioners' opinion is only advisory and not binding, legal precedents indicate that the court upholds the commissioners' opinion in most cases.
Edited translation from Al-Masry Al-Youm