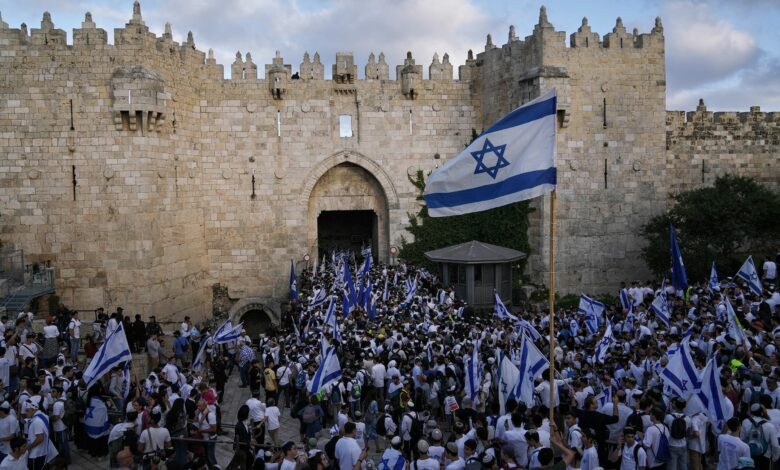 Jerusalem
CNN
 —  Thousands of Israelis waving Star of David flags streamed into the Old City of Jerusalem Thursday, as part of a contentious march taking place
at a time of high tensions
in the region.
Some marchers – with a few carrying the flags of extremist organizations – hurled racist insults at journalists and chanted anti-Palestinian slogans as the Flag March got underway.
Most of the participants were peaceful, singing, waving flags and sometimes dancing.
But some pelted journalists in a press area near Damascus Gate with rocks, bottles and other objects as the number of marchers rose on Thursday afternoon. Two people were arrested in connection with the violence against journalists, an adult and a minor, Israel police said. Other people are under investigation, the force said.
Some teenaged marchers shouted taunts at journalists wearing hijabs, including "May your village burn," CNN heard.
The march marks Jerusalem Day, when Israelis celebrate capturing east Jerusalem from Jordan in the 1967 war. The event has been controversial in the past, and two years ago prompted Palestinian militant group Hamas to fire rockets on Jerusalem Day, helping to trigger an 11-day conflict between Israel and Palestinian militants in Gaza.
Men and women take separate routes on the march, with men entering the Old City via Damascus Gate in the north, women entering through Jaffa Gate on the east side of the city, and the two groups meeting at the Western Wall.
Far-right Israeli National Security Minister Itamar Ben Gvir joined the marchers on Thursday evening, arriving at the Damascus Gate entrance and entering the Old City with a police escort.
Some of the marchers chanted: "Who is here? The prime minister is here," suggesting that they think Ben Gvir, not Prime Minister Benjamin Netanyahu, controls Israel's government.
There was a heavy police presence around the Old City, with 2,500 police devoted specifically to the Flag March and another 1,000 in the area, Chief Superintendent Yoram Segal told reporters on Wednesday, before the event.
A number of Palestinian shopkeepers told CNN before the event that they would close their shops in the Old City for fear of attacks by far-right Jewish nationalists.
At one point, Israeli police officers shoved two CNN journalists. CNN senior international correspondent Ben Wedeman and producer Kareem Khadder were pushed away from the location where they were trying to film after police told them to move.
One officer told Wedeman to move five steps back. Wedeman did, and another officer said: "Don't be clever." Officers then began pushing them back as CNN photojournalist Matthias Somm and Khadder filmed.
"Why are you pushing us? We're journalists," Khadder asked the officers several times during the brief scuffle.
Police had said in a briefing on Wednesday that there would be no restrictions on where journalists could operate during the high-tension event.
Master Sgt. Dean Elsdunne, an Israel Police spokesperson, told CNN that there were no restrictions but that journalists had to "obey instructions from the police. They have to let the police do their jobs. When they asked him to move, he kind of a made a joke out of it. There needs to be joint respect."