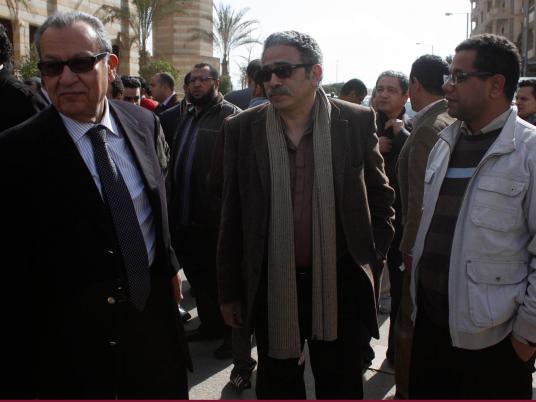 Dozens of Coptic activists marched from Abbasiya Square to Orouba Palace in Heliopolis Saturday to call on President Mohamed Morsy preserve public freedoms and denounce reports of recent assaults by religious extremists.
In the last week, bearded men have allegedly attacked an unveiled woman in Cairo's Maadi district and killed a student in Suez.
The protesters raised banners that read: "Treat Mariam like Fatma, this is citizenship."
They also held images of student Ahmed Hussein, who was stabbed to death in Suez. They chanted "Where are you human rights?" and "No to a single political movement hijacking Egypt."
"Coptic movements protested outside the presidential palace to call on President Mohamed Morsy to carry out his duties, protect his citizens, reinstate security, which he promised to do in the first 100 days of his rule, and preserve all the rights and public freedoms of Egyptians," said Andrawas Owaida, a Maspero Youth Union coordinator.
"[We call for] issuing stringent legislation against those who violate civil liberties and harass women in the streets, and keeping track of these new groups… [and incidents such as] the Suez martyr who was killed while standing with his fiance and the targeting unveiled women in Maadi," said Hany Ramses, a Maspero Youth Union leader.
"The march and the protest aim to confront the policy of imposing a trusteeship and demand a stop to harassing and targeting women, especially after a Coptic woman in Maadi was attacked by bearded men while leaving the pharmacy where she works for not wearing a veil," Maspero Youth Union member Mina Thabet said.
"The union is discussing with other revolutionary and Coptic movements organizing a march and mass conference on the continuation of these assaults," Thabet said.
"Coptic movements will not keep silent toward the harrassment of Coptic women," he added.
Edited translation from Al-Masry Al-Youm