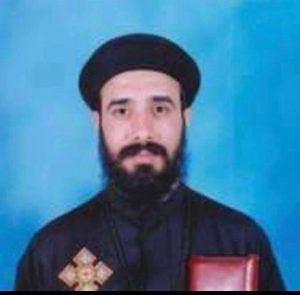 A Coptic priest affiliated with a church in Upper Egypt's governorate of Beni Suef was  stabbed by a man on Thursday in Cairo's northeastern suburb of El–Marg, state-run newspaper of Akhbar Al Youm reported.
The priest, Samaan Shehta, was in Cairo when a young unemployed man blocked the way in front of his vehicle and asked him to step down from it. He then hit the priest's head with cleaver and ran away, a local journalist told Egypt Independent on condition of anonymity.
"It is believed that it is a hate crime that has been executed by an extremist affiliated to IS or Salafism," he explained.
The Egyptian Coptic Church released a statement asserting that the death of priest Samaan Shehta occurred near El-salam city while he was with another priest, Benjamin Moftah, who was also assaulted. The statement did not provide further details about the second priest.
Egypt Independent attempted to contact the Coptic church's official spokesperson multiple times but did not receive a response.
Meanwhile, Akhbar Al–Youm said that the perpetrator has been arrested and is currently being investigated to ascertain the motives behind his attack.
Priest Samaan was in Cairo to attend a conference he was invited to at a Coptic church in the Cairo suburb of Dar al-Salam close to El-Marg where the incident took place.