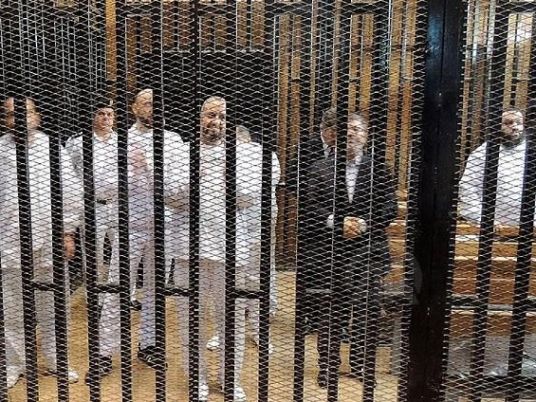 The Cairo Appeals Court has set 15 March as the date to review a request by defense lawyers to replace the judges in the case of t
oppled President Mohamed Morsy and 14 Muslim Brotherhood leaders over
charges of inciting the murder of protesters at Ettehadiya Palace in December 2012.
On Thursday defendants arrived at Cairo Criminal Court, held at the Police Academy, where their trial resumed, the State TV website Egynews reported.
The defendants were brought from prison to attend the session. The technical committee submitted footage of the clashes which led to many deaths and injuries outside the palace.
The defendants turned their backs to the court once they entered the dock. Hazemoun campaign coordinator Gamal Saber asked his lawyer to submit a request to the court to allow his relatives to visit him at prison.
The lawyers had submitted a request to change the chief judge and an associate judge who are reviewing the case.
The associate judge according to Morsy's lawyer Mohamed al-Damaty disclosed his opinion formerly in a television program about the event, which requires him to step down, he said.
Damaty said the court did not respond to his demand to include the recordings of the associate judge while disclosing his opinion in the program.
The court had postponed the case for the hearing of 6 March to decide on the request of the lawyers.
Edited translation from MENA