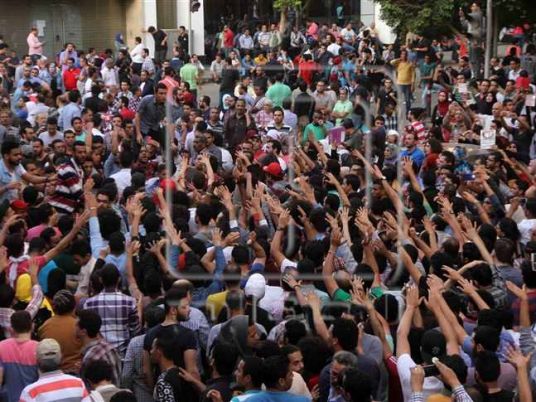 Qasr al-Nil Misdemeanor Court has upheld the acquittal of 51 suspects accused of taking part in illegal protests on April 25 this year, known as "Friday of the Land".
On Sunday, the court rejected a challenge submitted by the prosecution against a previous verdict that cleared the suspects in June.
The defendants, who were arrested in connection with the protests, were previously sentenced by a lower court to two years in prison.
Journalists were not allowed to attend the session, according to orders by Court President Mohamed Serag.
Qasr al-Nil Misdemeanor Court earlier cleared 28 arrested suspects and another 24 fugitive suspects over accusations of protesting without prior permission.
They were arrested upon protesting in downtown Cairo against the border demarcation agreement with Saudi Arabia that located two Red Sea islands of Tiran and Sanafir within Saudi territorial waters.
The 51 who have been released were convicted on various charges, including: organizing and participating in protests without a permit from authorities; assembling; rioting; inciting against state institutions; suspending traffic; and circulating claims that threatened public peace and security.
On April 8, Egypt and Saudi Arabia signed an agreement clarifying the demarcation of maritime borders between the two nations, just one of several deals signed during the visit to Egypt of Saudi King Salman bin Abdel Aziz.
Mass protests took place on Friday April 25 in response to calls from various political groups and parties, seeking to increase pressure on the government over the deal to transfer the two Red Sea islands to Saudi control, a move the Egyptian government described as returning them to their former owners.
The two islands are of great strategic importance, being located at the entrance to the Gulf of Aqaba.
Edited translation from Al-Masry Al-Youm