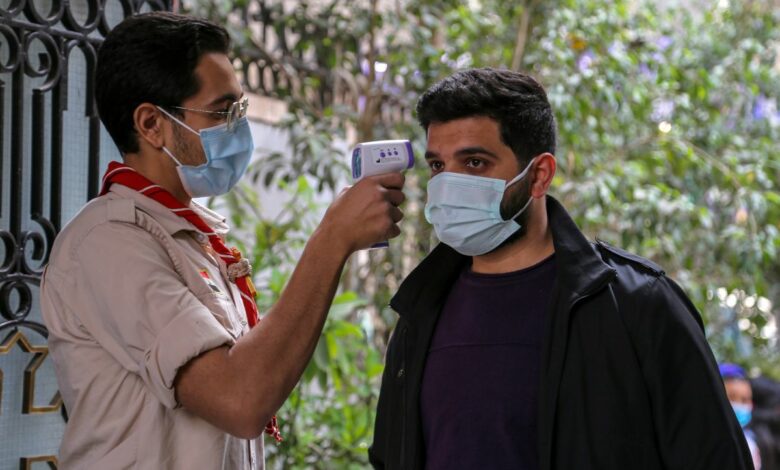 Egypt's Ministry of Health and Population on Wednesday reported 738 new coronavirus cases, 31 deaths, and 809 recoveries.
A total of 303,783 cases have been disclosed in Egypt, alongside 17,294 deaths and 256,467 recoveries.
The country's fourth wave of the virus is in full force, with daily case figures ten times higher than what was recorded at the end of July.
Moreover, the Health Ministry has stated that official figures likely only represent 10 percent of actual cases.
While Egypt's Supreme Committee for the Management of Coronavirus Crisis lifted some COVID-19 restrictions back in June, there is talk of reinstating some measures.
For now, restaurants, cafes, shops, and malls are operating on summer working hours and at 75 percent capacity.
Any facility that violates summer hours will receive a fine and be subject to close for two weeks. Repeat violators will be shut down for a month, the committee warned.
Furthermore, restaurants and cafes may not serve shisha (hookah), religious celebrations are banned, and weddings must be held in open areas.
Under the orders of President Abdel Fattah al-Sisi, the ministry is allocating efforts to vaccinate university students, administrative workers, and those in the country's healthcare sector.
The Head of the Central Administration for Preventive Medicine Affairs at the Ministry of Health Mohamed Abdel Fattah reiterated the ministry's warning against a fourth wave of the coronavirus in Egypt, stressing that everyone should adhere to precautionary measures.
According to World Health Organization data, approximately 16,223,309 vaccine doses have been administered in Egypt.

Egypt has provided many vaccines either through the VACSERA factories or imported vaccines. There are 512 vaccination centers for citizens in addition to vaccination centers for travelers, he added, as well as thousands of medical mobile teams and convoys that target citizens in different gathering places.
Egypt has received 5.2 million doses of the Moderna and Pfizer coronavirus vaccines in September following an announcement by Minister of Health and Population Hala al-Zayed.

Additionally, presidential health advisor Mohamed Awad Tag al-Din said in September that Egypt will be receiving 25 million doses of Johnson & Johnson's one-shot Janssen vaccine over the next four months.
Health Minister Hala Zayed also held an online meeting earlier in September with representatives of the US company Moderna to discuss the possibility of locally producing its coronavirus vaccine at VACSERA.
During the meeting, Zayed assured the representatives that VACSERA's factory in the 6th of October City is fully equipped to produce three million doses of coronavirus vaccines daily and plans to become a central hub for providing doses to Africa.
Study abroad students will be vaccinated, as well as university students that are 18 years and older, she said, stressing the importance of obtaining both doses before the beginning of the academic year.