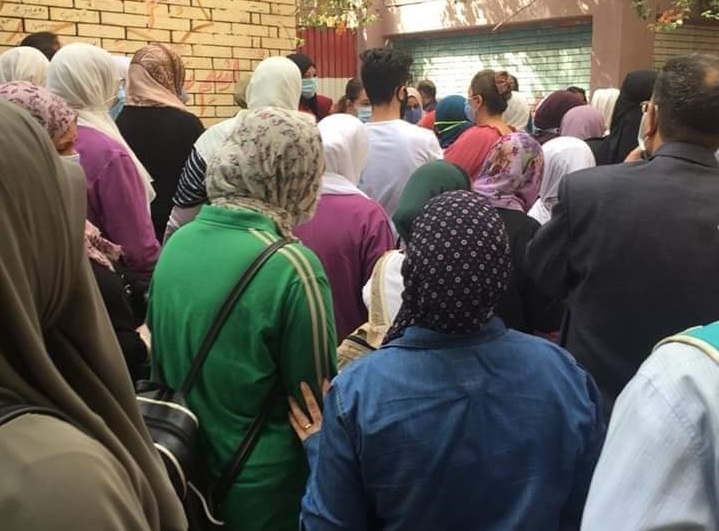 Precautionary measures to protect high school students from the coronavirus during the Thanaweya Amma exams collapsed on the very first day, as thousands of students flocked to examination committees at schools across the country on Sunday.
Photos on social media shared early in the morning showed dozens of students failing to  follow social distancing measures, standing only a few centimeters apart, with no sterilization gates present.
https://www.facebook.com/esraa.m.ali.90/posts/10222386692927362
As Egypt enters a peak in its coronavirus cases, parents expressed fear that failure to properly enforce the preventive measures could impact the health of their children.
Around 653,389 students are set to attend this year's exams.
Egypt on Saturday confirmed 1,547 new coronavirus cases, bringing the country's number of confirmed total cases so far to 53,758. The total number of COVID-19 deaths has now reached 2,106 nationwide, after announcing 89 deaths. The total number of fully-recovered cases rose to 14,327, all of whom have been discharged from isolation hospitals. Around 399 left quarantine on Saturday.
Egypt's authorities stated that the committee rooms will be sterilized before and after each exam, with students to wait outside in open areas to maintain social distancing.
Students will also be provided with sterilization tools to protect them from infection.
Forehead thermometers have been distributed to committees, alongside a doctor and ambulance ready for any coronavirus infections, while sterilization gates and isolation rooms have also been established at each school.
Education Minister Tarek Shawki assured that the government has done everything possible to protect students.
Thanaweya Amma refers to tests in the final years of high school, which students attend between the ages of 17 and 18, a crucial educational stage in Egypt. A student's score in the examinations can determine whether they are admitted to a free public university and what course they are able to study.
Earlier this month, Shawki announced precautionary procedures for the exams.
He explained that students will enter examination committees in a distanced queue two meters apart, starting from eight am with no student allowed entry after nine am.
Alongside thermal scanning, face masks will be provided to students among other means of personal protection.
Shawki added that gloves and disinfectants will be provided to teachers, observers and supervisors amid complete sterilization of the buildings.
The exam papers are printed by the Police Press which also conducts medical check ups, while the Ministry of Health provides a doctor in each exam committee and ambulances at schools.