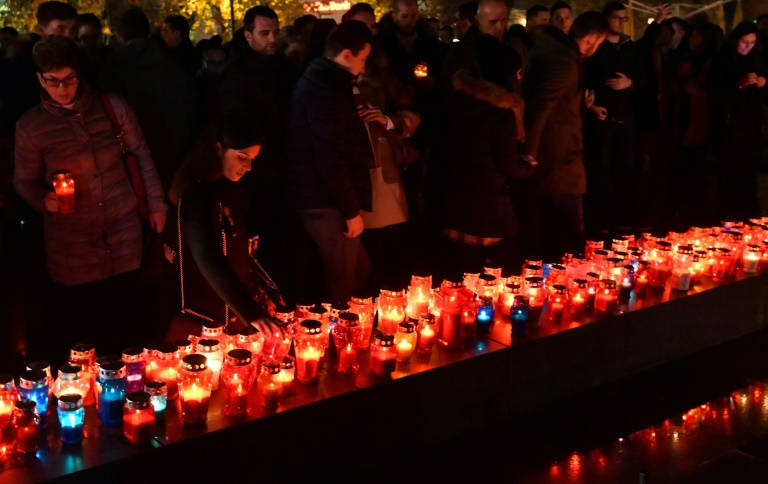 Croatia's president said Thursday that citizens had to admit crimes were committed by fellow Croats in Bosnia, a day after a Bosnian Croat war criminal took his own life at a court in The Hague.
"We Croats need to have the strength to admit that some of our fellow compatriots in Bosnia committed crimes and they have to be held responsible for them," Kolinda Grabar-Kitarovic said in a televised address, referring to the bloody 1990s war in Bosnia.
Her statement was more conciliatory in tone than that of Croatian Prime minister Andrej Plenkovic, who on Wednesday slammed the "deep moral injustice" of the UN judges' verdict.
Slobodan Praljak, 72, was one of six Bosnian Croat wartime leaders who had their jail terms upheld by the International Criminal Tribunal for the former Yugoslavia (ICTY), in the court's final judgement before shutting down.
The former military commander swigged liquid from a brown bottle, which he told his lawyer was poison, just seconds after UN judges upheld his 20-year sentence. He later died in hospital.
He and his five co-defendants were found to be key participants in a "joint criminal enterprise" to ethnically cleanse Bosnian Muslims in order to unify Croats in the region.
But the ruling and Praljak's death sparked anger among many Croats in the Balkans, who consider the men to be heroes and defenders of their people.
Grabar-Kitarovic said the tribunal had "failed to fulfil its role of bringing justice", with crimes against Bosnian Croats "not punished in the same way".
The president gave her condolences to the family of Praljak, whom she described as a "man who preferred to take his own life rather then live as a convict for acts he strongly believed he did not commit".
She said his death "deeply struck the hearts of the Croatian people".
Minute's silence
Croatian lawmakers observed a minute's silence on Thursday for "all victims" of the early 1990s Balkan wars.
"All victims have to remain forever in our collective consciousness and yesterday's death of General Praljak should remain the last act of the tragic events of war," said parliamentary speaker Gordan Jandrokovic.
PM Plenkovic repeated his conviction that the verdict was "unjust".
But he stressed that the UN court had tried "individuals and not states, and it does not speak about responsibility of a state".
Significantly however, the appeal judges upheld the original trial's finding that the "ultimate purpose" of the criminal enterprise in Bosnia was shared by late Croatian president Franjo Tudjman, seen as the "father" of his country.
The court's ruling is at odds with the view from Zagreb, where Croatia's own 1990s war is seen as one of liberation and self-defence against Belgrade aggression as Yugoslavia fell apart.
The verdict "is a serious burden for Croatia as a state," political analyst Zarko Puhovski told AFP.
Allies against Orthodox Serbs for most of Bosnia's 1992-1995 war, Catholic Croats and Bosniak Muslims also fought against each other for almost a year during the conflict.
Tudjman died in 1999, but the UN court said he would have been indicted if he had lived.