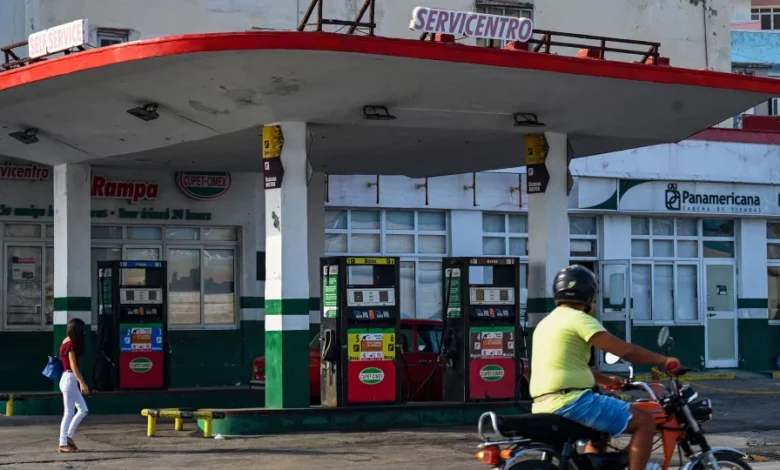 Havana, Cuba
CNN
 —  As the gas lines grow longer, tempers in
Cuba
are growing shorter.
Since mid-April, Cuba has been beset with its most dire fuel shortages in years, prompting comparisons to the severe disruptions Cubans suffered after the fall of the Soviet Union.
Lines stretch for blocks even at gas stations where there has been no fuel for days. While there is usually little traffic in Havana due to the difficulty of importing and maintaining cars, many main thoroughfares are strikingly empty. Across much of the island during the last few weeks there appeared to be more cars parked in gas lines than driving on the road.
While waiting to fill up his battered 1954 Plymouth, taxi driver Elien Reyes Castro complained it took two days in line to get enough gas for a single day of transporting customers.
"I won't say what I think. It ain't easy, they sell too little, only 40 liters, that only gives me enough for one day, they won't give me more than that," he said.
Cuba's communist-run government has blamed US economic sanctions for the disruptions, but also conceded in state-run media that the countries that traditionally supply the island with oil have not been sending promised fuel.
For decades, Cuba has received a seemingly endless supply of oil from Venezuela in exchange for sending medical workers, sports trainers and other personnel to their socialist ally. But as Venezuelan officials deal with their own collapsing economy, failing infrastructure and a corruption scandal that has roiled Venezuelan state oil firm PDVSA, that agreement may be on increasingly shaky ground.
"The first domino piece that falls out of this is Venezuela," Jorge Piñón, a senior research fellow at the University of Texas at Austin's Energy Institute, told CNN. "It's selling its better quality crude to customers that can pay in cash. So the good quality crude that Cuba used to get is no longer there because Cuba doesn't pay cash for crude oil."
While Cuba produces about half the oil it needs, the island needs to mix it with the lighter crude supplied from foreign partners to be able to refine it, Piñon said.
The shortage has increased economic agony across the Caribbean nation, just as Cuba grapples with a continuing slump in tourism caused by the pandemic and soaring inflation that has precipitously increased the price of food.
Late night fist fights have broken out at gas stations between drivers accusing one another of cutting the line – even among foreign diplomats who have their own gas station assigned to them but where, like everywhere else, there are infrequent deliveries of fuel.
One diplomat told CNN that, in a recent incident, Russian diplomats angrily demanded their cars be allowed to go to the front of the long line of cars because Russia is another major fuel supplier for Cuba. The Russian Embassy in Havana did not respond to a request for comment.
"We are living difficult moments but are going to come out ahead," Cuban President Miguel Diaz-Canel, said on Friday, according to the communist party daily Granma.
That optimism was belied by the government's decision to cancel the traditional massive May Day parade that is held every year in Havana's sprawling Revolution Square because of the fuel shortages.
The International Workers march is one of the island's key political events, with the island's top officials and leftist organizations from around the world typically in attendance as hundreds of thousands of Cuban workers march past a mural of the Argentine revolutionary Ernesto "Che" Guevara.
Instead, Ulises Guilarte de Nacimiento, the Secretary General of the Cuban Workers Federation, said smaller scale marches would mark the May 1 holiday "with maximum austerity" across several neighborhoods so residents would not need to rely on increasingly scarce public transportation.
Then following a heavy rainstorm on Sunday, officials announced the stripped-down celebrations would be pushed back until Friday because of "weather conditions." Sunny skies across Havana on Monday only added to the growing confusion of many Cubans.
Some though said the gas crisis meant they would not participate in the May Day march whenever or however the festivities were held.
Jaqueline Rodriguez said she, her husband and their teenage daughter drove an hour to Havana from their town where gas stations were closed to fill up their car. The family slept in their car as they waited over three days, she told CNN.
"How can we go to May Day when we have to be in a line for gas," she said.