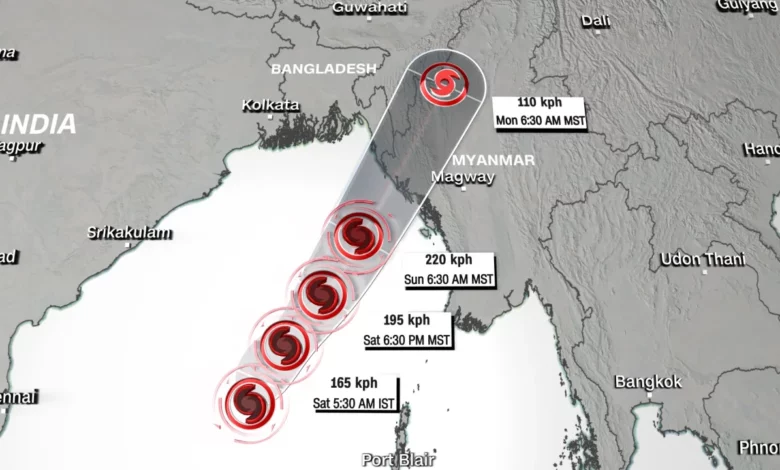 A tropical cyclone is strengthening in the Bay of Bengal and is on course to hit western Myanmar and Bangladesh's Cox's Bazar, where around 1 million people live in flimsy shelters in what many consider to be the world's largest refugee camp.
Cyclone Mocha is the first to form in the Bay this year and is expected to strengthen further before making landfall on Sunday, likely in western Myanmar's Rakhine state, near the border with Bangladesh.
According to the Joint Typhoon Warning Center, Mocha strengthened Friday into the equivalent of a category 1 Atlantic hurricane and is moving north at 11 kilometers per hour (7 miles per hour).
The storm's winds could peak at 220 kph (137 mph) – equivalent to a category 4 Atlantic hurricane – just before making landfall on Sunday morning, the agency said.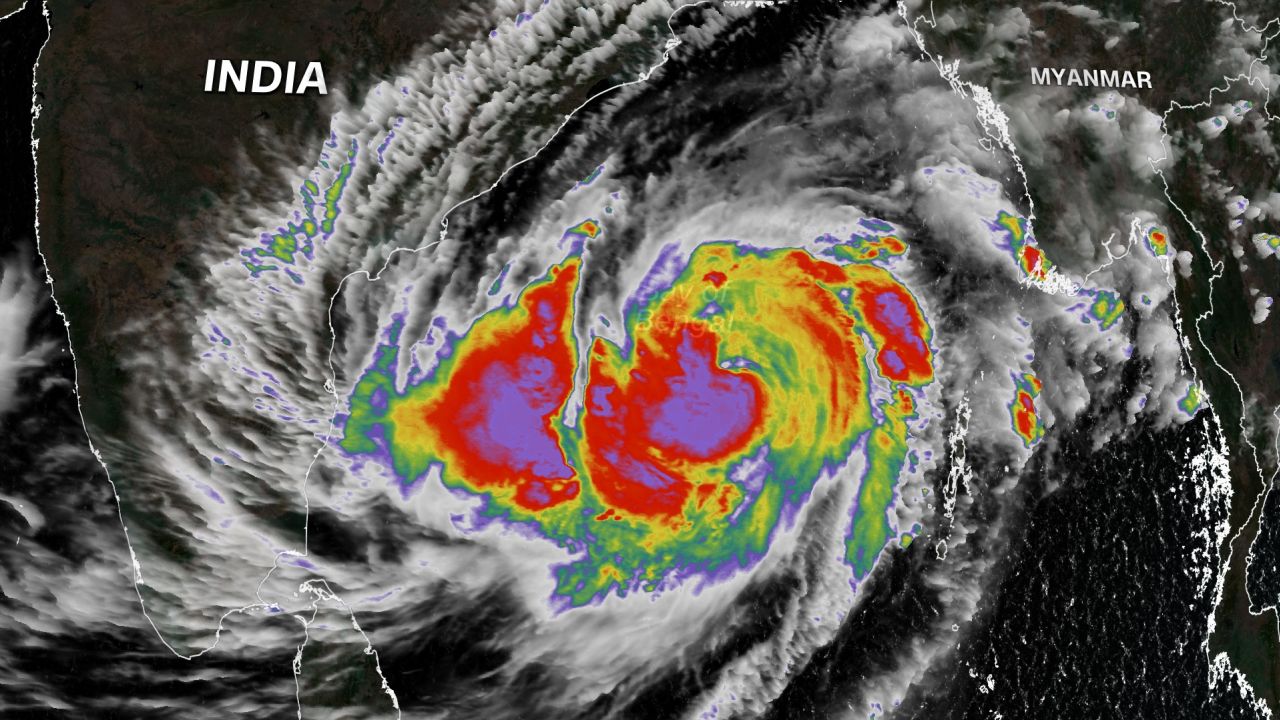 India's Meteorological Department said Friday Mocha had intensified into a very severe cyclonic storm and warned fishermen and trawlers against sailing far into the Bay over the coming days.
The agency forecast a storm surge of up to 2.5 meters (8.2 feet) was likely to inundate low-lying coastal areas in the path of the cyclone at the time of landfall.
In Bangladesh, that includes Cox's Bazar, home to members of the stateless Rohingya community who fled persecution in nearby Myanmar during a military crackdown in 2017. Many live in bamboo and tarpaulin shelters perched on hilly slopes that are vulnerable to strong winds, rain, and landslides.
There are also concerns for hundreds of Rohingya refugees housed on an isolated and flood-prone island facility in the Bay of Bengal, called Bhasan Char.
Ahead of Mocha's expected landfall, aid agencies are ramping up their emergency preparedness and response with local and refugee communities.
The UN refugee agency in Bangladesh said in a tweet that "emergency preparations in the camps and on Bhasan Char are underway" in coordination with the government and local aid agencies.
"In preparation of cyclones, hundreds of Rohingya refugee volunteers have been trained on identifying risks, informing their communities, evacuating people when needed and responding after disaster strikes," the UNHCR said in a tweet.
In neighboring Myanmar, residents in coastal areas of Rakhine state and Ayeyarwady region have started to evacuate their homes and seek shelter ahead of the cyclone's expected landfall, according to local independent media Myanmar Now.
The ruling Myanmar junta has issued cyclone warnings and claimed to be taking precautionary measures such as readying disaster management committees to respond to a potential disaster, according to state media Global New Light of Myanmar.
The Joint Typhoon Warning Center said widespread flooding, landslides and high wind gusts are expected around the area of landfall and across Myanmar's interior.
The last named tropical cyclone to make landfall in Myanmar was Maarutha in April, 2017. Though Maarutha was the equivalent of a tropical storm at landfall, with maximum winds of 92 kph (58 mph), it brought heavy rains and damaged nearly 100 homes.
In October 2010, Tropical Cyclone Giri was the last storm to make landfall with hurricane-force winds. It made landfall as a high-end Category 4 equivalent storm with maximum winds of 250 kph (155 mph).
Giri caused over 150 fatalities and roughly 70% of the city of Kyaukphyu, in Rakhine state, was destroyed. According to the United Nations, roughly 15,000 homes were destroyed in the state during the storm.
The worst natural disaster to hit Myanmar was Cyclone Nargis in May 2008, killing 140,000 people, severely affecting 2.4 million and leaving 800,000 displaced, aid agencies said.