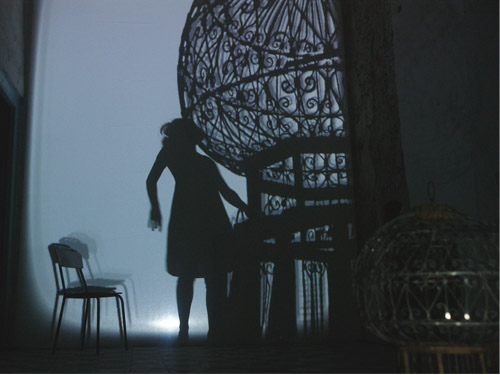 For the better part of two years, Egypt's cultural sector has received repeated blows with the cancellation or interruption of major arts festivals. In the direct aftermath of the 25 January revolution, the Cairo International Film Festival was postponed, only to come back in 2012 amid controversy and apparent decay.
The Cairo Experimental Theater Festival was also cancelled after the onset of the revolution, and now, after a two-year absence, the fate of the festival remains uncertain.
But like a beacon of hope, the Downtown Contemporary Arts Festival (D-CAF) will again open its doors to the public for the second year with the hopes of reclaiming Egypt's near-lost status within the international festival circuit.
Launched in March 2012, D-CAF is currently Egypt's largest international contemporary multi-disciplinary festival. Similar to last year, the month-long festival will encompass more than 80 international artists presenting work within six main strengths: art, music, performing arts, film, entertainment and the urban visions program.
According to Ahmed El Attar, the festival's founder and creative director, "We want to use D-CAF as a platform to attract, into Egypt, regional and international performers who are shaping the world of contemporary art but whom Egyptian audiences rarely get to see. The festival also hopes to create opportunities for collaboration and cross-fertilization between these international names and Egypt's own thriving independent arts scene."
Urban Visions
Building on the success of last year, D-CAF will again kick off on 29 March with its Urban Visions program prior to the official launch of the festival in early April. Featuring a rich calendar of activities and performances, the Urban Vision program will again bring contemporary dance performances, theater, circus and film to the streets around Tahrir Square.
But this time, the Urban Vision program will also travel outside Cairo to present a one-day version of the program in a Delta-basin village and at the Ahmed Baha El Din Culture Center near Assuit in Upper Egypt. Performances will include the Netherlands Dance Group 100 Hands, which will be performing in Egypt for the first time.
According to Enrica Camporesi, the festival's press officer, the goal of Urban Vision's program is to present theater and dance to an audience that is not used to contemporary festivals. Each year the festival hopes to build upon this program in order to increase the feasibility and accessibility of artistic expression to different audiences.
"The idea is to develop collaboration and exchanges with cultural operators who are already based [outside of Cairo]," says Camporesi. "This way, we help promote and encourage those facilities and cultural operators. Each year we hope to build more upon this program."
Music
When looking back at last year's festival, one of the thriving components is Attar's pick of curators for each disciplinary sector. This year, D-CAF is again working with an impressive list of curators who are each experts within their field — and who better to manage the musical component than independent sound artist, musician and producer Mahmoud Refat.
Refat, who also curated D-CAF's music program last year, says, "The theme of the D-CAF 2013's music program is direct culture. We will offer a rich mix of concerts and performances that together give audiences a snapshot of the independent music styles that make up direct music culture in Egypt today."
According to Refat, "direct culture" is defined by music that represents the street and urban culture, a sound originating from the people without the mediation of middle men or large conglomerates — this includes electronic music, DJs, folk music and romantic songs.
The music concerts will take place every Thursday and Friday night throughout the festival's month-long run. To kick off the music program, D-CAF will present the local, electro-pop trio Wetrobots+Bosaina, which is certain to leave audience members in a dance craze frenzy with its infectious sound and showmanship.
"For the second and third Friday concerts, we are moving away from electronic music and focusing on popular music and hip-hop," says Refat. "These concerts are about local 'shaabi' music. We have a strong lineup of performers including Khadafi Dub from the US, El Rass & Munma from Lebanon and SADAT from Cairo."
The final music segment will wrap up with a weekend of "romantic, feminine and rebellious" music from female artists, including Tunisia's famous singer Emel Mathlouthy and Egyptian musician and activist Dina El Wedidi.
Performing arts
Curated by Attar, the 2013 programing for performing arts will include several internationally acclaimed acts. The approach for this year is to bring the best of the global scene to Egypt.
Renowned French choreographer Tomeo Verges will kick off the program with a contemporary dance performance called "Anatomia Publica" by La Cie Man Drake. Verges will also stage two original dance creations with Egyptian performers created especially for D-CAF.
Other performances will include Algerian director Kheireddine Lardjam's play "End/Inge" performed by Compagnie El Ajoud, in addition to Dutch Theater Group Hotel Modern that will bring its iconic theater piece "The Great War" to Egypt and the Arab world for the first time.
This year, D-CAF has also placed a special emphasis on translating foreign plays into Arabic, Attar says. "Many of the international pieces that are being shown during D-CAF are being translated into Arabic for the very first time, increasing the accessibility of these pieces to local audiences."
Attar sys a key objective in this year's festival is to transfer knowledge to the local arts community, which is why the program also emphasizes co-productions and collaborations between international and Egyptian performers.
One example of this is the French-Egyptian co-production "Le Prince Sequestre" by Compagnie L'enterprise, written and directed by Frenchman Francois Cervantes in collaboration with Boutros Raouf Boutros Galhi and El Warsha's troupe founder Hassan El Geretly.
Visual arts
This year's D-CAF 2013 visual arts program will be curated by the innovative digitally infused cultural organization Medrar. Spearheaded by artists Dia Hamed and Mohamed Allam, Medrar works to provide an alternative space for new media and complement existing practices in visual arts.
"The idea of the entire program is about providing you with many different senses, and replacing things you ordinarily use with gadgets that are digitized," explains Hamed. "It gives you different hands, different eyes, different ways of communication — you exist differently in way."
The visual artists will explore the digital frontier of contemporary art through a series of collaborations between Egyptian and international artists.
The program seeks to reflect on how new technologies have shaped our lives and how we can re-appropriate these devises so that we are not dominated by them, but interact through them.
According to the curators, one of the works will incorporate digital devises to provide an overview of downtown Cairo called the "Guerilla Drone" by Lot Amoros (Spain) and Hamed. Using an augmented airspaces device, resembling a mini helicopter, viewers will have the chance to see an aerial view of Downtown Cairo, but with a corrupted and artistic perception.
Another interesting visual art component is the interactive, outdoor installation "SMSlingshot" by VR/Urban from Germany. Using an old Kodak store on Adly Street as a virtual canvass, viewers will have the opportunity to submit text messages, which will then be projected onto the shop.
"The idea is to provide virtual statements, where people can [craft] a text. This does not stay for too long, it's a momentary expression combining physical action with a digital message," they explain.
Film screenings
This year's festival promises an exciting two-part film program. Ivory Coast director Philippe Lacote will curate the first segment of the film screenings.
In his program, Lacote will present an overview of contemporary West African cinema by introducing three movies from Senegal, Burkina Faso and the Ivory Coast. The screenings will take place in Radio Cinema, a space that D-CAF has opened and renovated specifically for this year's festival.
The selection of films, between documentary and fiction, are meant to portray West Africa today — Lacotes selections include "Burn it up Djassa" directed by Lonesome Solo, "Boul Falle, the way of flight" directed by Rama Thiaw and "Hope Travels (Espoir Voyage)" directed by Michal Zongo.
The second part of the film program is a selection of films curated by Attar, which will include documentary films about peaceful, social movements and civil disobedience around the world.
D-CAF will also offer a range of public seminars and entertainment programs, ranging from workshops for artists and children delivered by Britain's renowned Bootworks Theater Collective to a "Mobile Film Workshop" given by Mohamed Abd El Fattah.
D-CAF kicks off in Cairo on 4 April and continues until 28 April.
For more information on the programming, artists, and activities, please visit the festival website.