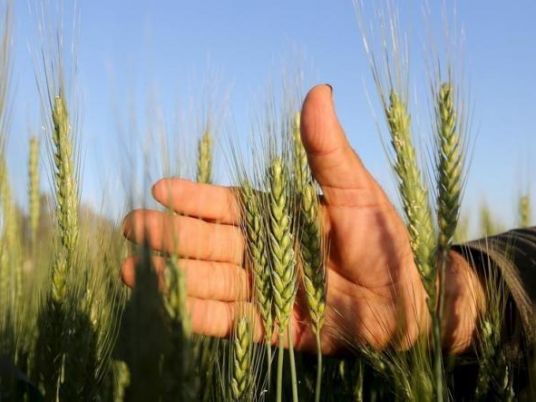 On Saturday, the Egyptian government backed down from it's zero-tolerance policy on the presence of ergot fungus in imported wheat shipments. The policy had been adopted and abandoned several times in the past year, resulting in the rejection of several wheat shipments due to contamination by the common grain fungus ergot, which can be harmful to human health in large quantities but is normally deemed harmless at trace levels.
Not for the first time, the government declared on Saturday that is was abandoning the zero-tolerance position and returning to a policy of accepting wheat that meets international standards, which permit a small amount of the fungus in wheat consignments, at or below the 0.05 percent mark.
Coupled with the latest declaration was an announcement that Egypt would be accepting a cargo of 240,000 tons of Russian wheat this is not ergot-free but does meet the international standards, which are set by the UN Food and Agriculture Organization (FAO) and its food code, known as Codex.
In an official press statement, the government said that is was reapplying the Egyptian standards from 2010 for all the new shipments. From now, the General Authority for Supply Commodities (GASC) would work with a specialized international company to check and receive all imported wheat cargos. Their checks would ensure all cargoes are in line with Egyptian specifications, which reflect global standards in 187 countries.
The statement presented various reports from 2011 showing that the processing of imported grain after delivery is sufficient to remove any ergot prior to the production of flour and bread. According to the reports, raw wheat grain imported into Egypt passes through different processes, including fumigation, ventilation, screening, purification and washing. After this, samples are examined in the laboratory of Egypt's Ministry of Health and Population to guarantee it is ergot-free before the milling process begins.
The decision to scrap the much-criticized zero-tolerance policy — and import Russian wheat containing trace amounts of ergot — was issued after three consecutive tenders of wheat had been canceled. During those three tenders, Egypt received offers from abroad that allegedly did not contain ergot — but at much higher prices than GASC was willing to pay. Put simply, the Egyptian authorities wanted ergot-free wheat imports, but they could not afford them.
To add to the problems with Egypt's zero-tolerance policy, one week after it was announced this September, Russia announced its own temporary ban on the import of Egyptian citrus fruits and vegetables. Russia cited concerns about the cleanliness of Egyptian imports, which they said do not meet international standards. The Russian move sparked fears of big financial losses, estimated at up to US$400 million, according to Al-Shorouk newspaper.
Policy flip-flop
The policy flip-flop situation dates back to late 2015, when the Agriculture Ministry's Quarantine Authority was attempting to implement a zero-tolerance policy based on rules from 2001. In December 2015, the authority rejected a shipment because it carried trace amounts of ergot, simultaneously announcing its zero-tolerance position.
"Any wheat that we inspect that has any level of ergot will be rejected. I am obliged to do this as it would be very harmful if any level of contamination reached plants in Egypt," Saad Moussa, the head of the central administration of the agriculture quarantine authority, told Reuters in January.
The announcement caught the global grain trade off guard, especially since Egypt had long tolerated ergot in accordance with international standards, while Egyptian officials raised concerns that Egypt would not be able to meet its needs for imported wheat.
In March, Moussa was removed from his post, with the ministry suggesting a shift away from zero-tolerance. The ministry replaced Moussa with Ahmed Imbabi and said it would be working with the FAO on its agriculture standards, including applying the 0.05 percent rule on ergot.
However, in the following months, several more shipments bound for Egypt were rejected, including one from the United States in July 2016, and another 63,000-ton cargo from Romania in September. Both government officials and industry figures began to express concerns once more regarding Egypt's ergot position.
Egypt remains the world's largest wheat importer, due in part to the nation's heavy reliance on bread as a staple food. Egypt's imports reached 11.5 million tons in the 2016/17 year, which is about the same as the previous year, but more than 1 million tons above the average for the last five years.
While Egypt is also a producer of wheat, it is not yet able to meet its domestic needs, and the stockpiling of wheat for domestic purposes is considered a matter of national security.
Health concerns
The ergot fungus is considered dangerous to humans in high quantities, and some Egyptian officials have expressed concerns that the fungus might easily spread from imported grain to Egyptian crops. At present, there appears to be no problem of ergot contamination originating from Egypt's domestic wheat output.
Ariculture Minister Essam Fayed has stated that the spread of ergot from imported wheat to Egyptian crops is highly unlikely. According to Fayed, the FAO has conducted a study on the chances of ergot spreading in Egypt. The results show that ergot growth cannot take place in the Egyptian environment, as it requires temperatures below 10 degrees centigrade for a consecutive period of 25 days.
"As long as we are insisting on the 0.05 percent ergot level, according to the international standard, neither the people nor the crops will be affected," Fayed said.
Echoing on the official statements is Amr Qandil, head of Preventive Medicine at the Health Ministry, who he has conducted a study along with the FAO to analyze the risks posed by ergot. The research showed that the Egyptian environment is not suitable for the fungus, meaning that its survival and spread here is highly unlikely.
"More than 95 percent of wheat that is traded globally contains 0.05 percent ergot," he said.
Meanwhile, gastroenterologist Tarek Beheiri a said that ergot is a pharmaceutical fungus used the pharmaceutical laboratories and hospitals. Below certain levels, it is harmless to human health, he says, and it is even used in curing certain neurological diseases and treating migraine pain.
"It's presence at the 0.05 percent level would not harm people's health," said Behairy.
However, he said consuming large amounts of the ergot is not allowed in wheat imports, because high doses can attack human and gastrointestinal systems, causing nervous and immune diseases.
"Ergot causes abortions in pregnant women and it also causes severe spasms and convulsions which may lead to death," he said.
Fears confirmed?
However, the Institute of Wheat Diseases Research published a scientific study on the possibility of the spread of ergot that seems to confirm the fears of some Egyptian officials. The study found that the fungus has the ability to adapt to all environmental conditions, and the researchers warned against importing infected wheat due to the imminent threat it poses to Egyptian agriculture.
The paper concluded that the spread of ergot could cause economic losses in the wheat crop in quantities up to 10 percent.
The study said that ergot spores would make the wheat unfit for human and animal consumption. It would also mean the presence of some toxic alkaloids that cause serious damage to humans and animals. The report listed a number of conditions that might result, including miscarriage, neurological cramps, and damage to blood vessels in the upper and lower limbs, causing gangrene.
Moreover, the study stated the any infection of the agricultural system with ergot could lead the loss of hundreds of types of crops, including varieties of wheat, rice, corn, barley and oats. It said there is no effective pesticide to combat ergot, since spraying normally takes place during the flowering period, which increases the economic cost and raises pollution levels.
International trade law allows countries to block imports containing ergot, and the United Kingdom is among those nations that do not permit any ergo-infected imports, the report said.
The Russian deal
Ali Mohamed Ibrahim, agricultural expert at the Agricultural Research Center, told Egypt Independent that this month's consignment of Russian wheat poses a problem for Egypt.
"The government's decision was not expected," said Ibrahim, claiming that the Russian wheat, which contains some ergot, will cause severe health problems and will lead to the destruction of Egytpian crops.
These are the very reasons why Egypt originally refused to accept Russian wheat, he said.
Ibrahim believes that Egypt may have been legally liable under international law because the government already agreed in mid-2016 to import 830,000 tons of Russian wheat containing traces of ergot below the 0.05 percent threshold. Backing out of the deal may have exposed Egypt up to a financial claim from Russia, he claims.
"There are many alternatives that Egypt should have gone through, like importing ergot-free wheat from other countries, including Ukraine and Kazakhstan," he said.
Mohamed Fathy Salem, an expert in plant pathology, is also concerned at the risks posed by ergot-infected wheat.
"If it's safe, why were both the ministers of agriculture and health concerned a few months ago? And why did the government officially suspend many wheat shipments?" said on Al-Araby television channel.
Salem said that there between 140 and 180 million tons of wheat traded globally, but only 35-55 million tons are contaminated with ergot.
"Ergot is one of the most dangerous fungi, because it contains dangerous toxins that lead to limb amputation resulting from poor blood supply," Salem said.
Salem says that he has conducted his own experiments to show that the fungus cannot be dissolved by water, contradicting claims from government experts.
Abdul Hamid Eldemerdash, the deputy of parliament's agriculture committee, said that the Ministry of Supply has made reference to reports from the World Health Organization that say it is safe to eat what at or below the 0.05 percent ergot threshold. However, he said, these reports do not take into account that amount of wheat that Egyptians consum on average, compared with people in other nations.
"But they ignored that the European and the American citizen eats 60 kg annually of wheat contaminated with ergot, while the Egyptian citizen eats triple the amount, consuming up to 200 kg every year," he said.