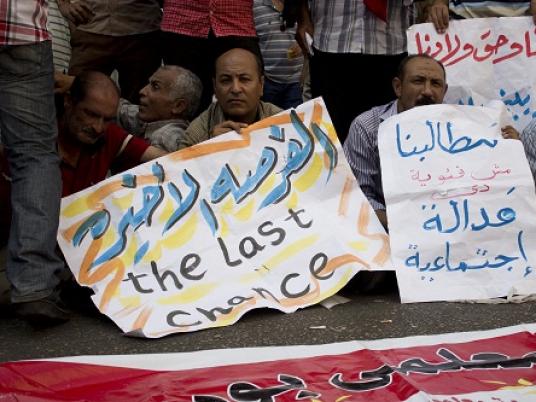 Dozens of teachers returned to their sit-in at the Cabinet's headquarters early Tuesday, only a few hours after police dispersed them Monday afternoon.
The teachers' protest in downtown Cairo enters its 10th day Tuesday, along with a number of strikes at schools, to call for a minimum wage for teachers, the removal of corrupt figures from the ministry's different sectors and permanent employment for teachers who have temporary contracts.
The protesters reestablished the makeshift tents, which the police removed Monday, and raised banners at the Cabinet building walls expressing their demands.
At schools in different governorates, the partial strike entered its fourth day as a number of striking teachers were referred for administrative investigation, causing others to strike in solidarity.
Abdel Nasser Ismael, a member of the Egyptian Teachers Union, accused the Education Ministry of defaming the protesting teachers.
Mohamed Zahran, one of the protesting teachers, told Al-Masry Al-Youm that teachers will continue their sit-in at the Cabinet and their strike at schools, despite threats of referring them for investigations and dismissal.
He added that the upcoming period will witness an escalation if the officials continued ignoring them.
The Cabinet announced last week that it has secured US$1.3 billion to increase salaries for teachers in response to their sit-in. Teachers said that the raise is not included in their pays for October.
Activist movements that seek to improve conditions for teachers, including the Egyptian Teachers Union and the Independent Teachers Syndicate, called for the sit-in under the slogan "A school year without teachers."
A nationwide teachers' strike took place around the same time last year, with several unions participating. Labor mobilization in the public education sector's ranks has been on the rise, with some reports saying the sector last year saw the highest number of protests in its history.
Edited translation from Al-Masry Al-Youm