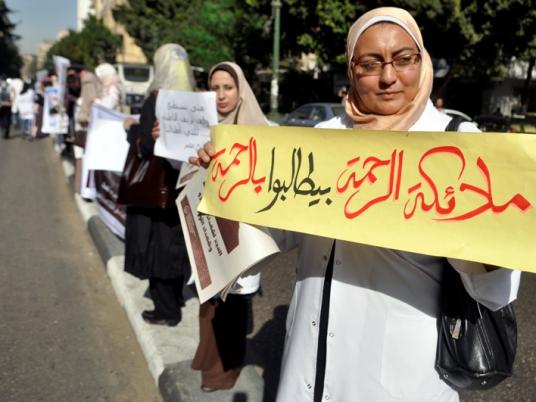 Dentists Syndicate's urgent general assembly declared on Thursday staging a partial open-ended strike starting 8 March, coinciding with the partial strike that will be staged by doctors starting the same date.
The board decided postponing decision on withdrawing confidence from it as half of the general assembly members were absent. Clashes and verbal wrangles broke out between independent dentists and others who belong to the Muslim Brotherhood due to the strike and confidence withdrawal from the board.
Clashes also took place between some general assembly members and correspondents of some satellite TV channels as the dentists assaulted one of the correspondents, which caused the colleagues at other channels to withdraw from the meeting due to the ill-treatment.
Ahmed Farouq, member of Tahrir Doctors Society and the syndicate, said confidence could not be withdrawn from the board so long as it is incomplete. He explained that law stipulated presence of half of the members. He also added that the rest of board members are detained pending investigations, which made the Brotherhood-affiliated doctors to reply saying that the political issues were fabricated for them.
Nabil al-Attar, former secretary of the medical professions union, called on dentists to have patriotism under such situations, saying, "Patriotism comes before professionalism. Whoever wants to strike should close his private clinic rather than striking at public hospitals." Brotherhood-affiliated dentists replied saying their strike is legitimate against poverty.
Edited translation from Al-Masry Al-Youm