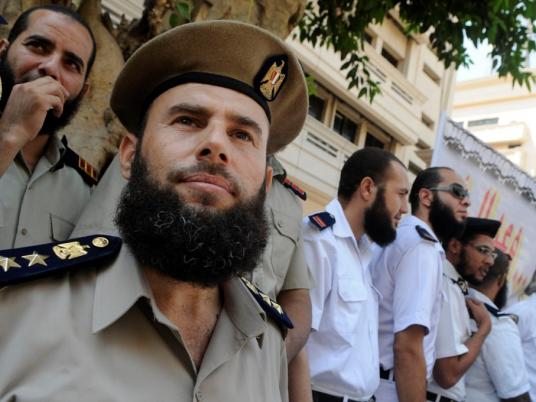 The Interior Ministry has allowed the Muslim Brotherhood's Guidance Bureau mufti to deliver religious lectures to police officers, despite objections from the National Security Authority, security sources told Al-Masry Al-Youm.
The sources said that Mufti Abdel Rahman al-Barr began the twice-weekly lectures last month. The lectures to police officers reportedly stressed religious commitment, the good treatment of citizens, avoiding torture and the importance of a religious state.
The same sources said Barr told police officers that growing beards to copy the tradition of Prophet Mohamed was acceptable, an idea strongly opposed by the Ministry.
Some police officers objected to the lectures and boycotted them, sources added.
Samy al-Ruby, assistant interior minister for training, said the training department receives figures from all political affiliations to provide officers with training in all fields related to their jobs. Ruby said that the department had hosted other Islamic figures.
Concerns have surfaced that the rise of Islamists to power would lead to an attempt of groups like the Brotherhood to dominate key military and police training institutions.
In February, Al-Masry Al-Youm quoted security sources saying lawmakers from the Brotherhood's Freedom and Justice Party had asked the Police Academy to provide six-month intensive courses for law school graduates affiliated with the Brotherhood, reportedly to help fill security gaps. The Brotherhood denied such claims and Police Academy officials said they don't set quotas for any political or other groups.
Edited translation from Al-Masry Al-Youm