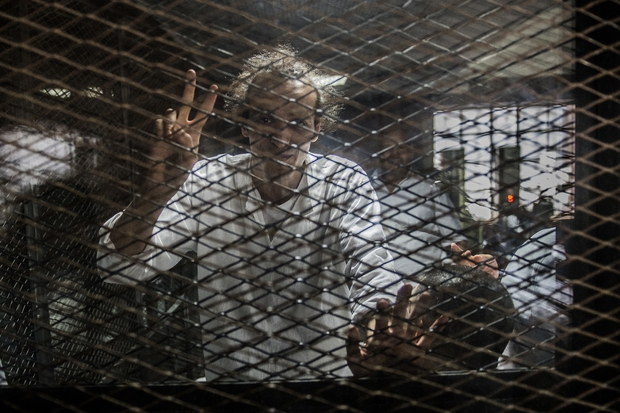 Egyptian photojournalist Mahmoud Abu Zeid, commonly known as 'Shawkan', will be awarded UNESCO's Guillermo Cano Press Freedom prize after been selected by an independent international jury of media professionals, according to a press statement released by UNESCO on Monday.
The prize will be awarded on May 2, marking the occasion of World Press Freedom Day, in an event to take place in Ghana with the theme 'Keeping Power in Check: Media, Justice and The Rule of Law'. The prize awards the laureate $25,000.
"The choice of Mahmoud Abu Zeid pays tribute to his courage, resistance and commitment to freedom of expression," said Maria Ressa, President of the selection jury.
The award recognizes a person, organization or institution that has made an outstanding contribution to defend or promote press freedom, especially in the face of danger. The prize gets its name honoring Colombian journalist Guillermo Cano Isaza, who was assassinated in front of the headquarters of his newspaper El Espectador, in Bogota, December 17, 1986.
Shawkan has been behind bars more than four years. He was arrested in 2013 while covering the dispersal of the Muslim Brotherhood sit-in at Rabaa square and has repeatedly seen his trial delayed and postponed. Several local and international NGOs condemned the detention of Shawkan, and several 'Free Shawkan' social media campaigns have been launched demanding his release.
The prosecutor reportedly called for him to face the death penalty in 2017.
However, the UN Working Group on Arbitrary Detentions has qualified his arrest and detention as "arbitrary and contrary to the rights and freedoms guaranteed by the Universal Declaration of Human Rights and the International Covenant on Civil and Political Rights."
Immediately after the UNESCO statement, the Egyptian government was evidently displeased by the decision.
Egypt's speaker of the House of Representatives Ali Abdel Aal warned UNESCO in Monday's parliamentary session against from granting Shawkan the award, saying Shawkwan is defendant facing terrorist charges. He advised UNESCO to distance itself from political issues.
Moreover, on Sunday in an official press statement, the Egyptian Foreign Ministry criticized UNESCO's intention to grant Shawkan the prize, saying that it "deeply regrets" the organization's involvement in "honoring a person who has been accused of committing terrorist and criminal acts, including murder, attempted murder, assaulting the police and citizens, and destroying public and private property."