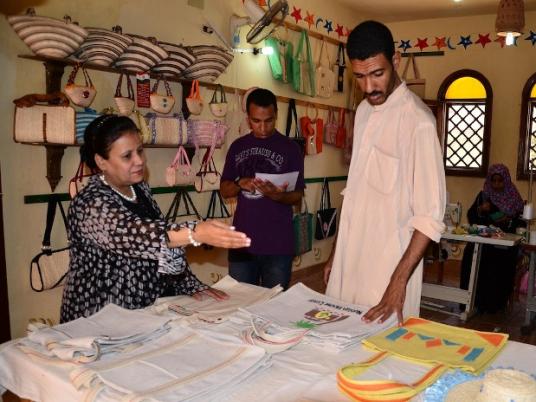 In an economic environment that is both short on capital and optimism, a small but hardy group of startup enterprises is finding its way in a transitional Egypt.
Facing regulatory obstacles and difficulty finding investors, tech industry insiders say these entrepreneurs could stand the best chance of tackling rampant unemployment among the country's youth.
Mahmoud Ghoz's business idea came to him while he was watching cartoons with his 5-year-old son Yusuf. They were watching "Ed, Edd n Eddy," an American-Canadian animated comedy.
Ghoz liked the way the figures were drawn, but he didn't like the story or the fact that one of the characters was best friends with a piece of wood.
"It was my nightmare that my son would one day come home and talk to a piece of wood," he says. "I felt that this cartoon was not conveying the values I wanted my son to grow up with."
Looking for alternatives, Ghoz discovered there were almost no Arabic cartoons for kids. He also discovered that there was a large demand for this kind of programming.
"There is a huge market for Arabic content," he says, standing in front of a screen with the first cartoon strip produced by his recently founded tech startup Rawy, which means "narrator" in Arabic.
Almost two years after the revolution, Ghoz is one of a growing number of tech entrepreneurs who are setting out on their own, despite a struggling economy, high unemployment rates and increasing skepticism among investors.
"With 25 million people online on a daily basis, there is a huge market for tech companies in Egypt," says Sherif Makhlouf, managing director at i3 Consulting, a firm that caters to small and medium-sized enterprises in Northern Africa, the Middle East and Asia.
But startups in Egypt also face a number of challenges getting off the ground. The country's tax and corporate laws are not business-friendly, much less designed to help smaller companies open their doors.
He cited the World Bank's annual Doing Business report, which analyses the ease of doing business around the world. In 2012, Egypt ranked 110 out of 183 economies.
"Small and medium-sized companies are lacking business networks and access to financing," he says. "There aren't many accelerators and incubators here."
Egypt's regulatory framework makes it complicated to invest in Egyptian enterprises, which also hinders capital investment, according to Makhlouf.
Technology industry employees say it has never been easy to find investors for startup businesses, but they say the events of the past two years and the ongoing political crisis have dried up many remaining sources of funding.
Nonetheless, for entrepreneurs, the uprising and its aftermath have also ushered in a new outlook.
"It inspired me," says Ghoz. "I understood that if we have courage and abandon our old patterns, we can really change something."
Accelerating creativity
Ghoz channeled his inspiration into his new business. He applied for the startup program of Flat6labs, one of the few accelerators supporting tech companies in Cairo.
Flat6labs provides seed money of up to LE70,000 as well as support services to aspiring business owners.
During a three-month training period, Flat6labs program participants use office space in a modern apartment in Giza. The program also includes mentoring, workshops and weekly dinners with potential investors.
Flat6labs, which has been around for just two years, receives hundreds of applications for the six or so spots available in the program.
"In Egypt, we have a lot of passionate young people who want to do something," says Ramez Mohamed, CEO of Flat6labs. "They have great ideas that are worth being supported and spread."
"We exchange our experiences and share resources," says Ghoz, as he works to animate a bird in flight on his laptop.
Flat6labs has helped launch 24 technology firms so far — 12 of which had already found investors by the time the training was finished.
Among the startups that received support from Flat6labs is Ekshef, a website that links patients with doctors and medical specialists. Others include Careerise, which matches job seekers with employment opportunities, Crowdsway, a crowd-sourcing platform for film, media and video professionals, and Gamesbond, a firm that develops educational and interactive games.
One of the most promising ideas to come out of the program belongs to Upper Egypt entrepreneur Usama Ghazali. He founded Yadaweya, the first online fair trade store for Egyptian handicrafts. The site showcases and sells the work of independent artists as well as tells their stories.
Ghazali hopes to use e-commerce to preserve the livelihood of Egyptian craft workers, who otherwise often lack the resources and technological skills to market their goods in the global economy.
"Most of Egypt's 80 million people live outside Cairo in rural areas. They are the ones we target," says Ghazali, who regularly travels all over the country to find new producers.
"I want to empower these people and help them getting direct access to markets," he adds.
Ghazali hasn't had any problems convincing his suppliers to try something new, but he thinks Egypt could use a lot more young entrepreneurs like him.
"It's a cultural thing. We are not risk takers," says Sabina Assem, who founded Fekra, a research network that brings together professionals from NGOs, the government and the private sector.
"Our parents want us to go the secure way and find a stable job. They tell us to be doctors or teachers, but not entrepreneurs," she says.
Starting one's own business is not a safe option, given the current economic situation. Unemployment is estimated to be as high as 25 percent among Egyptians between 25 and 29. According to the United Nations, 40 percent of the population lives below the poverty line.

"Tech companies still represent a very small fraction of Egypt's economy," says i3consulting manager Makhlouf. "But I truly believe that they are the future. It will be the fastest growing sector, and it will create jobs."
Silicon Wadi
In other Middle East countries, especially in Jordan, there has been an explosion of startups by young Arab techies in the past few years. Currently, only 1 percent of all online content is in Arabic, but according to estimates, 75 percent of that is produced in Jordan alone.
Makhlouf points to accelerators such as Oasis500, on which the Flat6labs model is based, as the key to Jordan's success in information technology. With its flourishing tech scene, Amman has been dubbed "Silicon Wadi," an Arabic play on the US Silicon Valley.

Industry insiders say Jordan's tech industry represents a new growth model for Arabic economies — one based on entrepreneurship.
"Entrepreneurship is about empowerment," Fadi Ghandour, an investor in Jordan's Oasis500, told the New York Times recently. "These young aspiring entrepreneurs are less dependent on the state and become job creators rather than only job seekers."
Though there are ongoing protests in Jordan against the government's recent decision to lift fuel subsidies, the country has been largely immune from wide-scale unrest its Arab neighbors have experienced in the past two years. This is likely due in part to the Jordanian government's decision to develop a strong domestic technology industry, some experts say.
To help foster tech business growth, the government there has invested in education, created laws to protect intellectual property and promoted incentives for investment. The Egyptian government has been criticized for its weak protection of intellectual property rights.
King Abdullah of Jordan has long lobbied for country to develop its tech sector to make his country an attractive place to do business. Furthermore, without oil or other lucrative natural resources, Jordanians have been forced to rely on more intellectual, service-driven industries.
Today, the IT sector plays an increasingly significant role in Jordan, comprising 12 percent of the country's gross domestic product.
But can this model be transferred to Egypt?
"We believe in what we are doing," says Mohamed of Flat6labs. "We will foster this economy. Maybe not all at once, but on the long term."
For Ghoz, a family man who quit his steady job at an IT firm, starting his own business was a significant risk, but one he's glad he took.
"I think it was worth it. It will all work out," he says with a smile.
Since the launch of Rawy, he has created four jobs for equally savvy Egyptians.
"It doesn't always have to be the big players who bring the country forward," he concludes. "It can be you and me — the people — who make a difference."