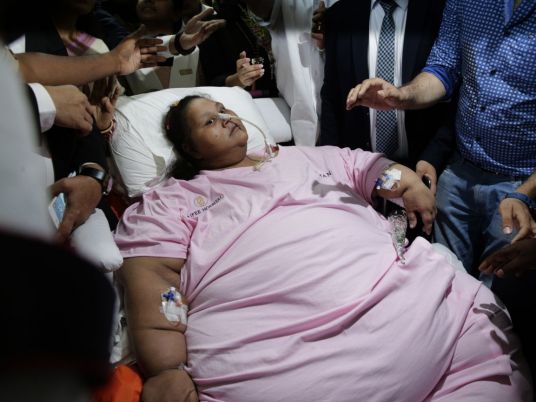 Dr. Yassin al-Shahat, head of Burjeel Hospital in Abu Dhabi, expects Eman abdel Aaty, known in the media as the "heaviest woman in the world", will be able to sit on a chair within two months.
A press conference was held on Sunday by the Emirati hospital where Eman abdel Aaty is receiving treatment, after transferring from India due to an unsatifactory aftercare following her surgery.
Shahat refused to disclose abdel Aaty's current weight. "Her psychological condition and treatment are much more important than talking about her current weight," he said, adding that the hospital will issue a monthly report about her health. Abdel Aaty will drop to an average weight in a period between six months to one year, he added.
An Egyptian diplomatic delegation visited abdel Aaty on Saturday, he added.
Located in the heart of the Emirati capital, the hospital allocated a suite on the fifth floor for abdel Aaty who arrived in the UAE on Thursday onboard an Egyptian private aircraft coming from Mumbai.
A medical team formed of 20 doctors received Abdel Aaty at Abu Dhabi International Airport. She was accompanied by "happiness patrols" – police teams formed to spread happiness inside the country – in addition to police and civil protection vehicles until she reached the hospital.
Abdel Aaty is staying in suite no. 528, which was equipped with a special bed that conforms to her weight, in addition to all necessary medical equipment, according to remarks by the medical team in the hospital.
"All requirements and arrangements were completed before the arrival of the patient," Shahat said. "The medical team will conduct several examinations and x-rays ahead of adopting an obesity treatment control."
"The hospital formed a specialized medical team to treat and care for this case," he added. "The patient was transferred to room no. 7 [an Intensive Care Unit] for one day to evaluate her health condition, before she was transferred to a wider room with all the needed medical equipment."
The Emirati media paid huge attention to abdel Aaty's arrival. The state-run TV aired a live coverage of her arrival to the hospital. Meanwhile, the medical team urged the media to allow them to examine her before giving any details.
Abdel Aaty, who lost about 325 kilograms after undergoing weight-loss surgery in an Indian hospital, left India on Thursday for the United Arab Emirates for long-term treatment.
The 36-year-old from Alexandria has lymphedema, a condition that causes body tissue to swell. She had a stroke when she was 11, after which her weight gradually increased.
The funds for her travel and medical care were raised through crowd-sourcing, with people from India and elsewhere contributing to her treatment.
Edited translation from Al-Masry Al-Youm