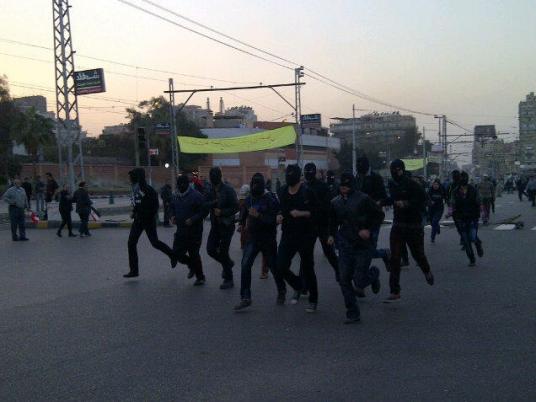 Dozens protested at the High Court in downtown Cairo Wednesday to reject the prosecutor general's decision to arrest members of the Black Bloc group on charges of terrorism.
Prosecutor General Talaat Abdallah ordered Tuesday the arrest of all members of the group, as well as whoever joins or puts on their uniform, claiming the group performs "terrorist" actions.
Security forces arrested four masked people whom they said were Black Bloc members, while they were on their way with other demonstrators to the prosecutor general's office to protest. Three of the suspects are being held inside the court, while the fourth was taken into a police vehicle that left to an unknown location.
Authorities meanwhile imposed high security measures around the High Court. Cairo security deployed 15 armored vehicles, as well as hundreds of Central Security Forces troops to arrest the group's members. It also evacuated all citizens and employees from the building, fearing riots.
Security forces also bolstered their presence on 26th of July and Ramses streets, as well as areas near the Court of Cassation.
Public Prosecution spokesperson Hassan Yassin said Wednesday that Abdallah doesn't fear Black Bloc threats to siege his office.
"They are most welcome. We are waiting for them. If they do, they would make our mission to arrest them easy," he said.
Demonstrators also protested the state of emergency and curfew imposed by President Mohamed Morsy in Suez, Ismailia and Port Said governorates. They chanted slogans against the Muslim Brotherhood, from which Morsy hails.
The Black Bloc emerged during the protests for the 25 January revolution's second anniversary. Members of the previously unknown group mask their faces and wear all black, but its number of members and extent of involvement in the most recent protests remain unclear.
Its existence has been somewhat controversial. The Popular Current, a movement led by former presidential candidate Hamdeen Sabbahi, has threatened to sue preacher Khaled Abdallah for accusing the current of affiliation with the Black Bloc and holding it responsible for the latest violent clashes with security forces. Abdallah made the claims on his talk show.
"We suggested a debate with him to refute the allegations, but he refused," Heba Yassin, Popular Current spokesperson, said. "He would not even take a call from us during the show."
"He had better be neutral," she added. "And he must stop spreading lies about us."
Edited translation from Al-Masry Al-Youm