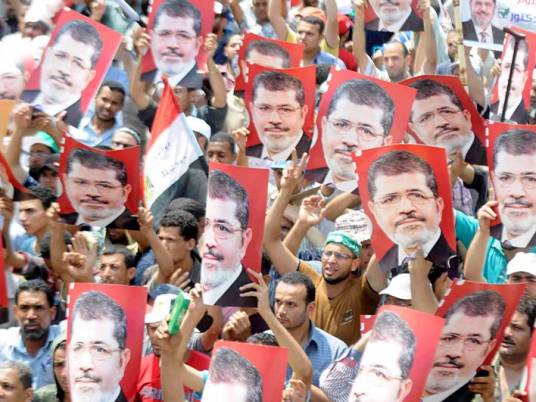 An investigation conducted by the Qasr al-Nil Prosecution revealed on Saturday that elements from the Muslim Brotherhood had recruited Syrians and Palestinians to fire at protesters opposed to the rule of ousted President Mohamed Morsy.
Mohamed Hassan al-Berdkany, a Syrian who was arrested at Maspero, was found to have fired birdshot at protesters from Qasr al-Nil Bridge. Berdkany said he had fled the fighting in his country and had come with his family to Cairo.
Berdkany said he met a young Syrian man named Ahmed al-Soury who was responsible for gathering Syrians to take part in the protests the Muslim Brotherhood was organizing at Nahdet Misr Square.
Berdkany said he used to meet with some members of the Brotherhood in an apartment in 6th October City. There, he would meet with a local leader of the Syrian community who took him to another apartment where a number of young members of the Brotherhood were staying.
The Brotherhood members asked him to join them in their protests in return for LE500 for each protest he would take part in.
Berdkany said that the head of the Palestinian community who paid Palestinians to protest for the Brotherhood is named Bassel al-Feroun. Their meetings also took place in an apartment in 6th October City and each participant was handed a shotgun and paid to go join the Brotherhood protests in Nahdet Misr Square.
The prosecution has asked intelligence, national security, and criminal investigation authorities to conduct their own investigations to determine the movements of Berdkany and to uncover the identities of the suspects involved in the case.
Edited translation from DPA