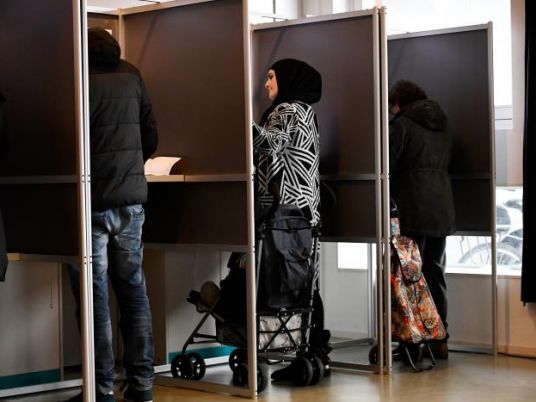 The Dutch tested their own tolerance for immigration and Islam on Wednesday in an election magnified by a furious row with Turkey, the first of three polls in the European Union this year where nationalist parties are seeking breakthroughs.
The center-right VVD party of Prime Minister Mark Rutte, 50, is vying with the PVV (Party for Freedom) of anti-Islam and anti-EU firebrand Geert Wilders, 53, to form the biggest party in parliament.
As many as 13 million voters began casting ballots at polling stations across the country that will close at 2000 GMT. A charged campaign, plus clear skies and sunshine meant high turnout was expected. National broadcaster NOS said that by 0930 GMT in the morning, turnout was at 15 percent, 2 percent ahead of the previous parliamentary election in 2012.
With as many as four out of 10 voters undecided a day before voting and a tight margin of just 4 percent between leading candidates, the outcome was unpredictable.
Wilders, who has vowed to "de-Islamicise" the Netherlands, has little chance of forming a government given that other leading parties have ruled out working with him. But a first place PVV finish would still send shockwaves across Europe.
The vote is the first gauge this year of anti-establishment sentiment in the European Union and the bloc's chances of survival after the 2016 surprise victory of "America First" presidential candidate Donald Trump in the United States and Britain's vote to exit the EU.
"Whatever the outcome of the election today the genie will not go back into the bottle and this patriotic revolution, whether today or tomorrow, will take place," Wilders said after voting at a school in The Hague.
Wilders won over Wendy de Graaf, who dropped her children off at the same school. "I hope he can make a change to make the Netherlands better.. I don't agree with everything he says… but I feel that immigration is a problem," she said.
France chooses its next president in May, with far-right Marine Le Pen set to make the second-round run-off, while in September right-wing euroskeptic party Alternative for Germany, which has attacked Chancellor Angela Merkel's open-door refugee policy, will probably win its first lower house seats.
Rutte, who has called the Dutch vote a quarter-final before a French semi-final and German final said a Wilders victory would be felt well beyond the Netherlands.
"I think the rest of the world will then see after Brexit, after the American elections again the wrong sort of populism has won the day," he said.
Late opinion polls indicated a three percentage point lead for his party over Wilders', with a boost from a rupture of diplomatic relations with Ankara after the Dutch banned Turkish ministers from addressing rallies of overseas Turks.
Turkish President Tayyip Erdogan accused the Dutch of behaving like Nazis, and Rutte's government expelled a Turkish minister who had traveled to the country to address Erdogan supporters at an impromtu rally without seeking permission.
"I think Rutte did well this weekend with the Turkey row," said Dave Cho, a 42-year-old supply manager and long-time VVD supporter.
On Wednesday morning, two major publicly subsidized voter information websites were offline, targeted by a DDoS cyber attack.
It was not clear whether Wednesday's attack was related to the row with Turkey, which also led to the temporary defacement of numerous small websites in the Netherlands.
Separately on Wednesday, several large Twitter accounts including that of the European Parliament, Reuters Japan, Die Welt, Forbes, Amnesty International and Duke University were hijacked temporarily, apparently by Turkish activists.
NO CLEAR WINNER, WEEKS OF BARGAINING
Unlike the US or French presidential elections, there will be no outright Dutch winner under its system of proportional representation. Up to 15 parties could win a seat in parliament and none are set to reach even 20 percent of the vote.
Experts predict a coalition-building process that will take many months once the final tally is known.
Rutte's last government was a two-party coalition with the Labour Party, but with no party polling above 17 percent, at least four will be needed to secure a majority in parliament. It would be the first such multi-party alliance since three in the 1970s. Two of those fell apart within 12 months.
In a final debate on Tuesday night, Wilders clashed with Lodewijk Asscher, whose Labour party stands to lose two-thirds of its seats in its worst defeat ever on current polling.
Asscher defended the rights of law-abiding Muslims to not be treated as second-class citizens or insulted, saying "the Netherlands belongs to all of us, and everyone who does his best." Wilders shot back: "The Netherlands is not for everyone. The Netherlands is for the Dutch."
Front-runner Rutte, who is hoping Dutch economic recovery will help him carry the election, has been insistent on one thing – that he will neither accept the PVV as a coalition partner nor rely on Wilders to support a minority government, as he did in 2010-2012.
"Not, never, not," Rutte told Wilders.
(Reporting by Stephanie van den Berg and Toby Sterling in the Hague; Additional reporting by Phil Blenkinsop and Anthony Deutsch; Editing by Jeremy Gaunt)