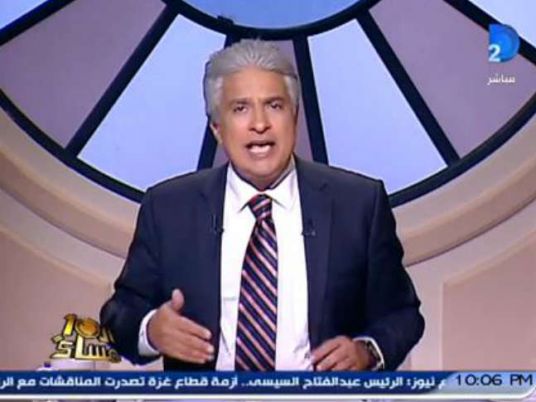 Cairo Appeals Prosecution office on Sunday ordered media host Wael al-Ebrashy released on bail of LE5,000, in claims he influenced the conduct of investigations into the murder of an army recruit by a judge in Nasr City.
The Al-Ashera Masa'an (Ten PM) TV show host, Ebrashy, had earlier this month interviewed the family of the victim who was been shot dead by the judge.
The Prosecutors investigated Ebrashy in claims he tried to influence the conduct of investigations and to describe incidents that did not come into the investigation.
Ebrashy said during the investigation that he aimed to emphasize that the law applies to everyone, and that the judge who killed a citizen is not above the law; besides, he was asking questions about how a judge — who has a prestigious status in society –becomes a murderer because of a minor quarrel.
He added that the objective of the show was to discuss the issue from the social angle, without intending to have any impact on the course of the investigation nor offering any prejudgment towards the parties in the case.
The brother of the judge had filed a complaint with the Attorney-General, accusing Ebrashy of influencing the investigation and creating a negative mental image of his brother before the investigations are completed.