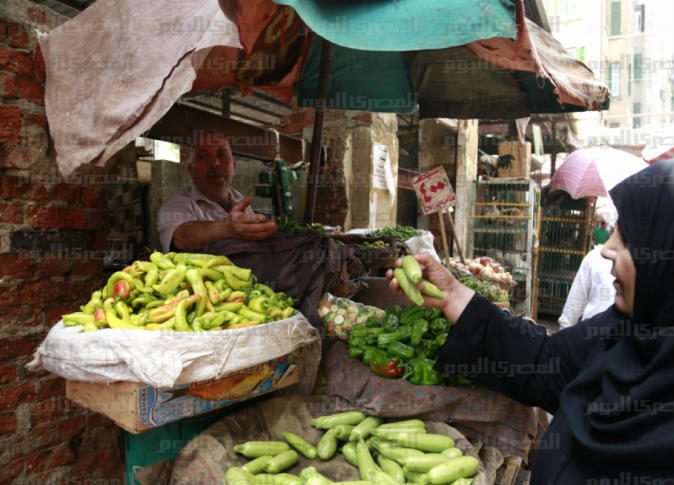 The annual consumer inflation rate spiked to 32.5 percent in March 2017, compared to 9.2 percent in the same month in 2016, hitting its highest level since June 1986 when it had recorded 35 percent, according to a press statement by the Central Agency for Public Mobilization and Statistics (CAPMAS).
The annual inflation rate in February 2017 was 31.7 percent, the statement pointed out; prices increased 2.1 percent on a monthly basis, compared to 2.7 percent and 4.3percent in February and January 2017, respectively.
Moreover, CAPMAS said in the statement that the annual inflation rates in 'urban areas' hiked in March to 30.9 percent, compared to 30.2 percent in February.
Graph illustrating the changes in Inflation Rates since March 2016 to date (percentage vertical vs month)
CAPMAS attributed the rise in the anuual inflation rates to the increase in the price of some food commodities; the prices of vegetables, for instance, jumped by 7.1 percent, while meat and poultry prices increased by 3.4 percent; fish and seafood prices soared by 10.6 percent; fruits by 7.2 percent; smoking products by 7.3 percent and Umrah trips by 7.7 percent, to name a few.
Other commodities saw an alarming increase in their prices, including 'mineral water and juice' and soda, which jumped by 13.9 percent and 18 percent, respectively .
On the other hand, CAMPAS pointed out that some food commodities actually witnessed a price decrease in March; sugar prices dropped by 6.1 percent; milk and cheese decreased by 1 percent; eggs by 2.9 percent, cereals and bread prices declined by 1.9 percent and rice by 4.2 percent.
Economic expert Magdy Toulba told Egypt independent that the decision to liberalize the Egyptian pound's exchange rate against foreign currencies, back in November 2016, weighed in badly on the inflation rates, but only by 10 percent. "I believe there are another two factors that really affected the inflation rates, including the market monopoly, as the Egyptian market is completely controlled by some companies in various sectors, which enabled them to raise the prices by any rate they wish," he said.
Toulba added that the country's lack of a good economic vision and strategy also played a significant role in increasing the inflation rates.
"The impacts of inflation shocks from the liberalization of the exchange rate and the increase in oil prices last November are fading," Reham Dessouki expert at Arqaam Capital, told Reuters.
She added that there were no unusual inflationary pressures in March, whereas starting April, inflation rates will reflect the pressures that will result from the holidays and the preparations for the Holy month of Ramadan in May.
Earlier this month, the Minister of Finance Amr al-Garhy expected inflation rates to decline by November and December 2017; explaining that the ministry is working on economic growth through new investments, not just consumption, and is keen to take all necessary measures to achieve an increase in tax revenues up to LE143 billion in the next fiscal year.
Garhy described the new budget figures as realistic.