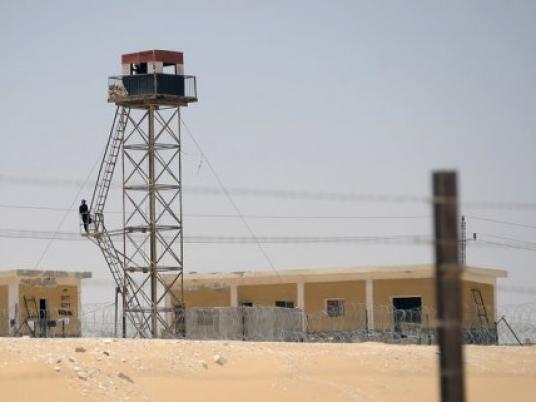 Military forces and jets killed 20 militants in the Sinai region bordering Israel in the early hours of Wednesday, striking back after armed men attacked several security checkpoints, an army commander in Sinai told Reuters.
"We have succeeded in entering al-Toumah village, killed 20 terrorists and destroyed three armored cars belonging to terrorists. Operations are still ongoing," he told Reuters.
The military is responding to attacks that began Sunday, which the government blamed partly on Islamists. Sixteen border guards were killed in the Sunday assault.
The commander said the army had received information that many militants were in al-Toumah village, Reuters reported.
State TV also reported injuries among Egyptian troops this week. Egypt's Nile News satellite channel said that an army captain and at least four soldiers were injured in attacks targeting security checkpoints at Rayssa, Bir al-Abd and Kharoba on Tuesday evening.
Eyewitnesses told Al-Masry Al-Youm that there are more deaths and injuries among militants in the Gemeay area of eastern Arish, which is a stronghold for extremists, but did not specify the number of casualties.
According to a source quoted by Nile News, the military offensive will continue using both ground and air forces.
German news agency DPA quoted a different security source as saying that the campaign includes the cities of Rafah, Sheikh Zuwayed and Arish.
The Second Field Army began preparing on Tuesday for a military operation in the Gabal al-Halal area of Sinai. State-owned Al-Ahram newspaper reported Wednesday that the operations are ongoing there as well.
Security sources have said they believe the suspects in Sunday's attack on the Egypt-Israel border have fled to the Gabal al-Halal area.
Military and Interior Ministry forces intensified on Tuesday their presence on the roads leading to the area, as well as on Rafah International Road and Karam Abu Salem Road near where the incident took place.
Special forces and police will assist the army in the Gabal al-Halal operation and reconnaissance helicopters will be deployed in the area, a military leader in Rafah told Al-Masry Al-Youm.