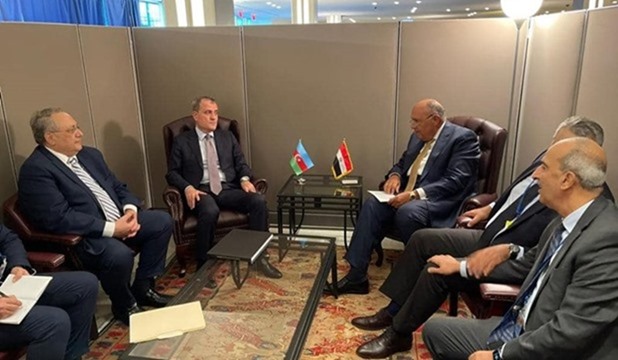 Foreign Minister Sameh Shoukry discussed with his Azerbaijani counterpart Jeyhun Bayramov means to boost bilateral ties and cooperation.
The meeting was held Saturday on the sidelines of the 77th session of the United Nations General Assembly in New York.
The meeting reviewed files pertaining to bilateral cooperation between both countries that held political consultations in the Azerbaijani capital Baku in July, in addition to holding the meetings of the fifth Egyptian-Azerbaijani joint committee and the Egypt-Azerbaijan businessmen forum in Baku in February, said Spokesman for the Foreign Ministry Ahmed Abu Zeid.
Shoukry congratulated Bayramov on the successful presidency of his country for the Non-Aligned Movement through launching fruitful initiatives to revive cooperation among the movement's member states, added Abu Zeid.
Shoukry also underlined the need to settle the Azerbaijan-Armenia crisis diplomatically and bring about stability and avoid the deterioration of situations.