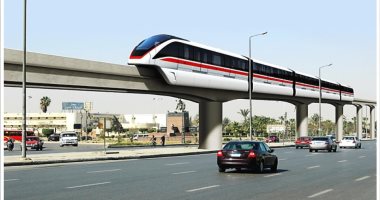 Minister of Housing Mostafa Madbouly announced that the ministries of transportation and housing are accepting preliminary blueprints from national and international companies interested in building two monorail projects in greater Cairo, according to a Al-Masry Al-Youm report.
One of the proposed monorail lines would stretch from 6th of October City to suburban Giza, over 35km, while another planned line would extend from Nasr City to New Cairo, covering 52km.
Madbouly explained that "This choice [the monorail] comes as the most comfortable means of transport and an answer to the request of passangers," as well as in accordance to the current and future growth plans between the years 2020 and 2030, and 2050.
"The project will be executed in accordance with the construction designs and that the funding would be acquired through international monetary organizations as well as government loans," Madbouly explained.
Madbouly added that the companies chosen to carry out the project would have experience in similar projects and be profitable in the long run and that the company would have to invest at least three billion euros over the period of five years.
The housing minister also explained that the price of one project would need to be at least one billion euros.
Interested companies need to present their bids and documents, in addition to a full financial assessment, to the Housing Ministry before January 15, 2018, according to the Al-Masry Al-Youm report.
Sami Abu Zeid, a consultant to the Ministry of Housing in the fields of transportation and roads, said that the project came to life following transportation studies that recommended connecting eastern and western Cairo through heavy transportation to keep up with the growth of the metropolis.
The 6th of October monorail would have 10 stops and would include the industrial area of the satellite city, Hossary Mosque, Alexandria desert road and the ring road.
Predictions show that the monorail would carry 48 thousand passengers each way per hour and a quarter of a million passengers daily.
The project is set to be completed by 2020.