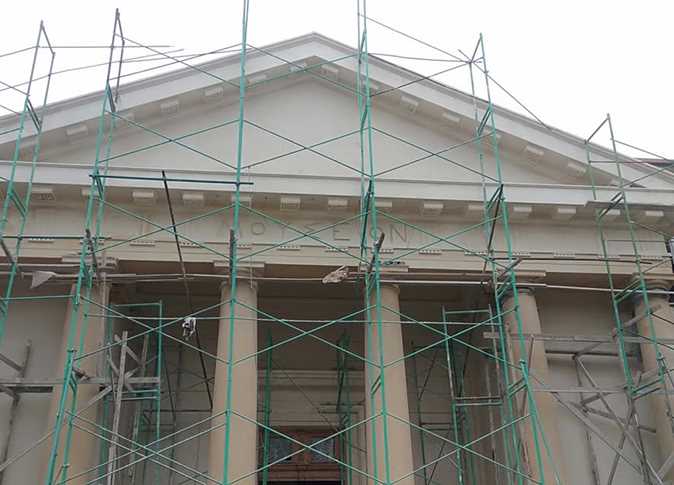 The head of the Museum Exhibition Scenario Committee for new regional museums at the Ministry of Tourism and Antiquities, Ali Omar announced that the ministry has contracted a company specialized in designing displays to provide 30 display cases for the Greco-Roman Museum in Alexandria.
He added that the museum's ongoing restoration project, done at a cost of LE340 million, is nearing its end and will soon be officially opened to the public.
The Greco-Roman Museum in Alexandria is the largest museum in Lower Egypt and the biggest ever dedicated to the Greco-Roman civilization in the Mediterranean region. Omar noted that the museum building itself is registered as an Islamic monument according to Prime Minister Decree No. 822 of 1983.
Speaking to Al-Masry Al-Youm, Omar added that the Museum Exhibition Scenario Committee visited the Greco-Roman Museum on Sunday, and have already decided on the locations and numbers of the displays that will be used on the ground floor.
He added that a contract will be made with a specialized company to implement the necessary and required designs, with some to be placed in corridors and others in the middle of the halls and sides.
Omar said that the committee has determined the pieces that will be placed before the official opening of the museum, which properly represent daily life in Egypt in the Ptolemaic and Roman eras and properly educating visitors on how people lived in those eras.
Visitors that enter the Hall of Rulers and Ruling will be greeted with statues of Ptolemaic royalty, view models of governance such as official currencies, official items and remaining monuments of what the state produced in that period.
Omar explained that the most prominent pieces to be displayed immediately after the opening include the statue of Roman Emperor Diocletian, statues of philosophers, two coffins from the Greco-Roman period, an assortment of mosaic pieces, as well as rare pieces from the Byzantine era.
Edited translation from Al-Masry Al-Youm