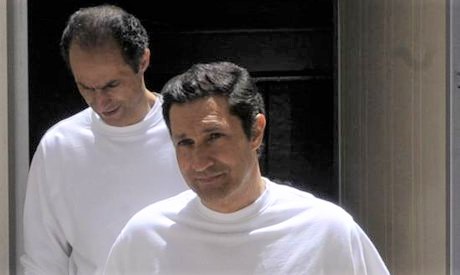 Cairo Criminal Court on Saturday acquitted Alaa and Gamal Mubarak of illicit share trading, charges dating back to the sale of Al Watany Bank of Egypt in 2007, four years before their father, former Egyptian President Hosni Mubarak, was ousted by a popular uprising.
The charges pertained to accusations that the two sons had manipulated the stock exchange and squandered public funds, as well as accusations that they had illegally profited, along with seven other defendants, from the sale of the Al Watany Bank of Egypt to the National Bank of Kuwait in 2007.
The court ruled the abatement of legal proceedings against the first suspect in the case, Ahmed Fathi Soliman, due to his death. The court also cleared 6 other defendants in the case.
In his first comment on the ruling, Alaa Mubarak thanked the family's lawyer, Farid al-Deeb, for his work since 2011.
"Despite threats and (the) harassment he was subjected to, he stood beside us, defending the family," Alaa Mubarak wrote in a post on Twitter.
The defendants in the case were referred to trial in May 2012 after investigations by Egypt's Illicit Gains Authority said that the defendants had received funds from abroad to create fraudulent bank accounts, taking over shares for the al-Watany Bank of Egypt.
Egypt's public prosecutor at the time referred Alaa, Gamal and seven others to the criminal court on charges of violating the regulations governing the stock market and Central Bank rules against unlawful profits.
The prosecution had charged the defendants with obtaining LE 2.5 billion by selling the al-Watany bank, in violation of Capital Market Law and regulations set by the Central Bank of Egypt.
The Public Prosecutor also said at the time that the defendants had violated provisions of the capital market and central bank laws by agreeing to control the bank's shares and creating a share for themselves. They allegedly buried and then sold the largest portion of small investors' shares, but did not publicly disclose this activity.
The defendants were accused of concealing their identities during the bank share dealings through companies and personal closed investment funds located in Cyprus and the British Isles, and then transferring their profits abroad.
Edited translation from Al-Masry Al-Youm