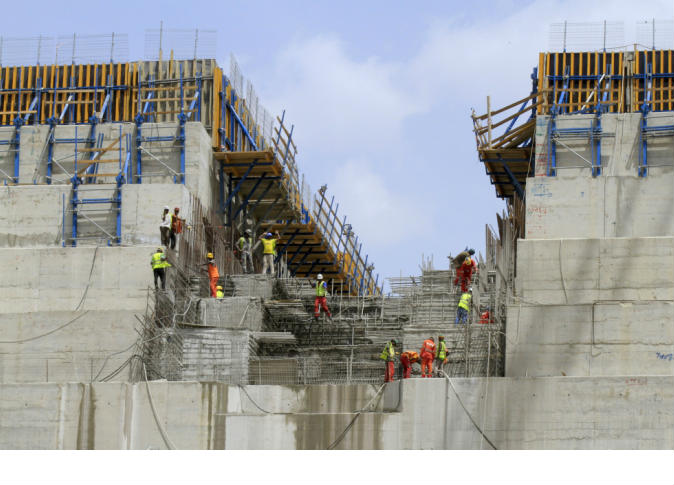 The spokesperson for the Egyptian Foreign Ministry Ahmed Abu Zeid denied the claims circulating on Ethiopian news media, that Egypt requested the exclusion of Sudan from negotiations on the Grand Ethiopian Renaissance Dam.
The Ethiopian 'AddisFortune' newspaper published a report on Sunday claiming that officials from the Ethiopian capital Addis Ababa had rejected an Egyptian proposal to exclude Sudan from negotiations, and said that direct negotiation between Egypt and Ethiopia continues, seeking an agreement on the controversial dam.
The Sudanese Ministry of Water Resources responded on Tuesday, saying a request to exclude Khartoum from negotiations is illegal if true.
Saifuddin Hamad, an official of the Sudanese Water Resources Ministry and a member of the negotiating committee for the dam, responded by saying that Sudan has not received any official notification of Egypt's request for the exclusion of Sudan.
Meanwhile, commenting on the Ethiopian newspaper's report, former Egyptian Foreign Minister Mohamed al-Oraby claimed that Addis Ababa seeks to take advantage of any crisis to pressure other parties.
"Ethiopia depends on leaking rumors to the media, and then denying it through officials, but after Addis Ababa has reached the desired result," he said.
In a statement to Al-Masry Al-Youm, he made clear his expectation that the crisis will deepen and enter more difficulties due to Ethiopia and Sudan's resolute stances.
Oraby also expected Ethiopia to reject Egypt's proposal for the World Bank to mediate the negotiations.
During Foreign Minister Sameh Shoukry's December 26 visit to Ethiopia, Egypt submitted a proposal requesting introducing the World Bank as a neutral mediator in negotiations.
The proposal was conveyed in a letter from President Abdel Fattah al-Sisi to Ethiopian Prime Minister Haile Meriam Desaline, and Egypt awaits the response of both Addis Ababa and Khartoum on the proposal, according to an Abu Zeid press statement on Wednesday.
Elsewhere, Egyptian MP and Chairman of the African Affairs Committee of the House of Representatives, Sayyed Fleifel, labelled the Ethiopian papers' claims "questionable," accusing Qatar of influencing Sudanese and Ethiopian media.
MP and African Affairs Committee member Hatem Pachat accused Ethiopia of attempting to trigger a rift between Egypt and Sudan, to disrupt the current negotiating climate and to harm Egypt's reputation.
Edited translation from Al-Masry Al-Youm