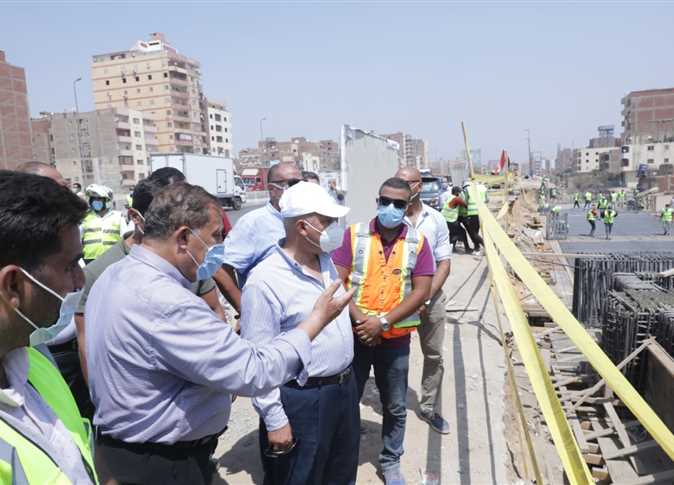 Egyptian Transportation Minister Kamel al-Wazir announced Sunday that his ministry has devised a plan to operate the Bus Rapid Transit (BRT) system on the Ring Road to reduce traffic jams at entrances around Greater Cairo.
The BRT is an express bus system with buses that run on isolated tracks on the Ring Road, Wazir said, which comes with greater capacities.
His announcement came during the minister's inspection tour to follow up on implementation of the Ring Work's comprehensive renovation work around Greater Cairo, with a length of 106 km at a cost of LE eight billion.
According to Wazir a protocol is in place to manage car parks under the Ring Road, coming in cooperation with the Ministry of Local Development and concerned governorates to facilitate the movement of commuters.
This project will be implemented after the development and expansion of the Ring Road, increasing the number of its lanes to eight in each direction.
The Ministry of Transport is negotiating with the World Bank to provide financing in the form of a soft loan to enact the project.
Work is underway to create isolated lanes and parking stations along the Ring Road for these BRT buses.
Wazir paid a visit to Volvo factories in Gothenburg, Sweden in February where he discussed with officials from Volvo a project to establish a BRT system in Egypt.
Discussions between Wazir and Volvo officials focused on the project to establish a BRT system, a public transport system utilizing buses that is designed to boost reliability when compared to a regular bus system, and in doing so incorporates roads dedicated solely to buses, alongside design features aiming to cut down on delays caused by passengers getting on and off the bus.
Wazir said in a statement that Egypt, amid ongoing efforts to expand public transportation to reduce pressure on roads, will implement a plan for the implementation of the BRT project on the Ring Road in Greater Cairo, following completion of construction work aimed at raising efficiency and expanding the road to eight lanes at least.
The meeting highlighted the BRT system's effectiveness in linking "smart cities," or urban areas that make use of information and communication technologies (ICT) to improve the quality of energy, transportation, utilities, and other services, with the aim of reducing waste and overall costs.