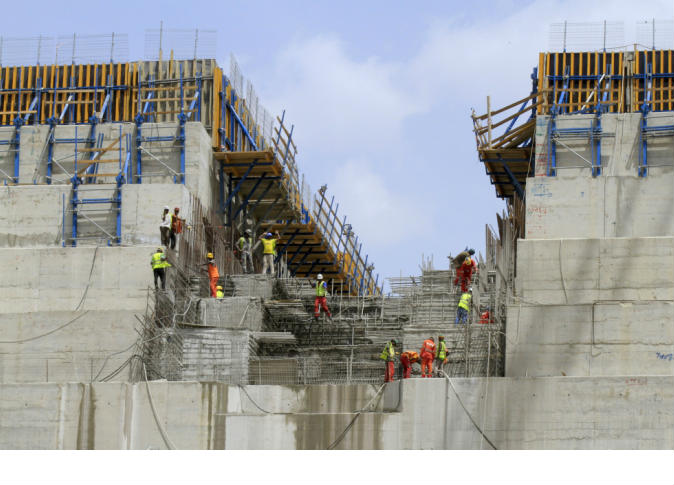 Egypt did not receive any notification from Ethiopia about filling the reservoir of the Grand Ethiopian Renaissance Dam (GERD), an official source familiar with GERD negotiations told Al-Masry Al-Youm on Saturday.
The source, who spoke on condition of anonymity, said that the technical negotiations have been halted since political unrest broke out in Ethiopia recently after the resignation of Ethiopian Prime Minister Hailemariam Desalegn and the declaration of a state of emergency in the country.
The source said that Addis Ababa had asked the Sudanese side to postpone the meeting of the joint committee composed of ministers of foreign affairs, irrigation and intelligence chiefs from the three countries, which was supposed to be held on February 24 and 25 in Khartoum.
Privately-owned Al-Shorouk newspaper reported on Wednesday that Ethiopia sent Egypt a plan saying that the GERD's reservoir will be filled over a period of five years.
"Ethiopia officially handed over to Egypt the filling plan of GERD and the various scenarios through an official letter from the Ethiopian Water Minister," Shorouk quoted Gedion Asfaw, Chair of the Ethiopian side in the tripartite committee of Egypt, Ethiopia and Sudan, as saying.
However, the Ethiopian ambassador in Cairo Taye Atske-Selassie told Al-Masry Al-Youm that he has no information regarding the statements attributed the representative of his country in the tripartite technical committee saying that Egypt supposedly received such a plan.
According to Al-Shorouk, the Ethiopian Water Minister stressed that the letter welcomed any proposals from Egypt or Sudan while pointing out that it represented a confirmation of Ethiopia's commitment to sharing information and plans related to the dam that does not cause any harm on Egypt and Sudan.
Relations between the three countries have recently been strained by a failure to agree on the impact that Ethiopia's GERD project might have on the water flowing into Egypt and Sudan.
Egypt has insisted that technical studies must be done to assess the impact and have asked that the World Bank be appointed as arbitrator, while Ethiopia insists that the project will not affect the water flow to its neighbors.
Edited translation from Al-Masry Al-Youm