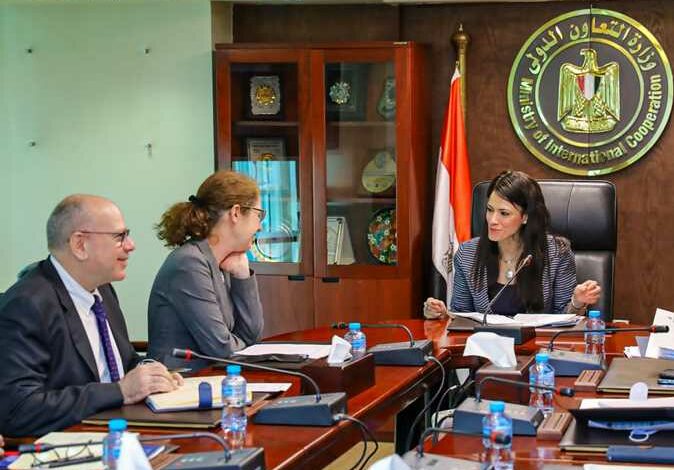 Egypt's Minister of International Cooperation and the Governor of Egypt at the World Bank Group, Rania al-Mashat, met with Marina Weiss, the Regional Director for Egypt, Yemen and Djibouti at the World Bank, in the presence of some World Bank representatives.
The meeting discussed preparations for holding the spring meetings of the World Bank and the International Monetary Fund this April in Washington, with Mashat's participation.
The meeting also touched on future projects related to development cooperation to support the government's plan to transition to a green economy, achieve financial inclusion, and enhance the ability of the main economic sectors to deal with challenges and economic crises, well also furthering the participation of the private sector and modernize the transport sector.
The meeting comes as a continuation of periodic meetings held by the Minister of International Cooperation, with multilateral and bilateral development partners, and out of the close cooperation between Egypt and the World Bank Group – one of Egypt's most important developmental partners.
Mashat's meetings will follow up ongoing development cooperation portfolio and related developments, as well as international cooperation projects being coordinated during the coming period as part of the country's development priorities and the new partnership strategy with the bank for the coming years.
The minister stressed that she valued the strategic relations between Egypt and the World Bank Group, reflected in the provision of development finance and technical support to many projects aiming to achieve the state's international sustainable development vision in accordance with its national agenda and goals.
The past year saw a leap forward in new partnerships with the World Bank, she said, as a development financing agreement worth US$ 200 million was concluded to combat air pollution in Greater Cairo.
She also noted ongoing projects in housing, utilities and sanitation sector, and discussed the importance of enhancing cooperation in technical support for projects being implemented.
Weiss emphasized the continuous coordination and communication with the Ministry of International Cooperation and the concerned authorities, to integrate with the development efforts of the government and to actively participate in the Decent Life Initiative, as well as the COP27 conference in Egypt at the end of this year.