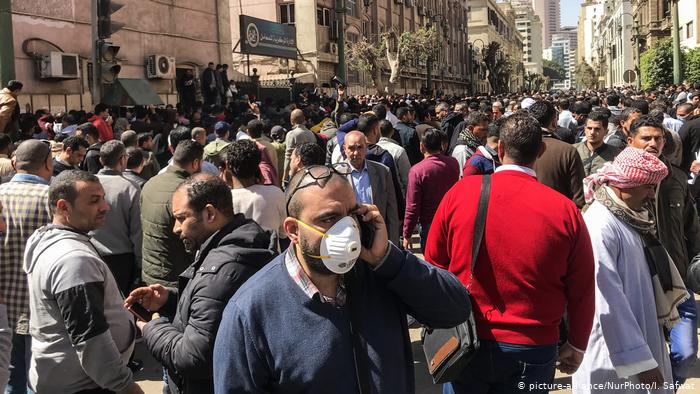 Egypt began easing off multiple coronavirus restrictions on Saturday while continuing to apply certain precautionary measures, gradually returning life to normal following almost three months of a nationwide curfew.
The Religious Endowments Ministry reopened mosques on Saturday as churches prepared to receive worshipers once again.
Friday prayers will remain suspended, Dar al-Iftaa said in a statement, but prayers in isolation and quarantine areas will be allowed if health authorities approve so, taking into account the conditions of the elderly and those with chronic illnesses.
Clubs, sporting centers, restaurants and cafes geared up to resume operating at 25 percent of their seating capacity in accordance to a Cabinet ruling.
Governors across the country assured that protocols are in place to only reopen establishments abiding by the proper precautionary measures.
The government established guidelines last week to reopen mosques, cafes, clubs and restaurants, such as ensuring that facility managers sign an acknowledgment regarding the operating conditions that must be followed.
Any establishment found to be over 25 percent capacity will be shut down.
To maintain public safety, the heads of municipalities have cooperated alongside inspection teams and police to ensure that cafes and restaurants abide by these measures.
Isolation hospitals across the country discharged dozens of recovered coronavirus patients on Friday, while admitting new patients as well.
Egypt imposed a nationwide curfew starting March 24, shutting down schools and airports to brace for the coronavirus outbreak.
Museums and tourists sites across the country were shuttered on March 23.
Shops were closed from five pm until six am, while all cafes, bars and restaurants were shut down nationwide. All means of public and private transportation were suspended during curfew hours.
Authorities suspended Friday prayers and congregational prayers in mosques nationwide starting March 21, while churches shut down across the nation as well.
Egypt announced on Friday 1,625 new coronavirus cases and 87 additional deaths, bringing the total number of cases confirmed so far in the country to 62,755.
Approximately 2,620 people have died from the virus in Egypt so far.