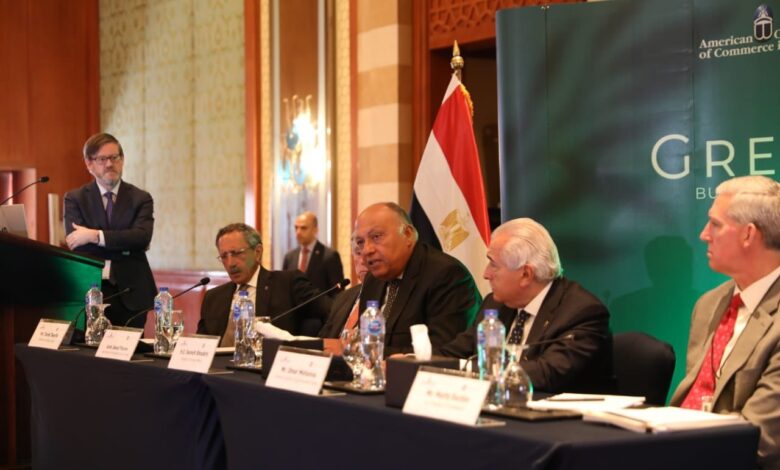 Egyptian Foreign Minister Sameh Shoukry on Sunday participated in an event held by the American Chamber of Commerce in Cairo, The US Chamber of Commerce, and the Office of the US Special Presidential Envoy for Climate.
The meeting came on the occasion of the visit of the US GreenTech Business Mission delegation to Cairo, which includes many companies and financing agencies interested in investing in the field of green energy in Egypt.
Egyptian Foreign Ministry spokesperson Ahmed Hafez said that Shoukry delivered a speech during the event in which he indicated that the visit of the American mission is part of the joint Egyptian-American framework to strengthen relations between the two countries and build on the strategic dialogue between Egypt and the US held in Washington in November.
Hafez added that the US mission's visit also aims to explore the great opportunities available to increase US investments in Egypt, especially in the fields of renewable energy and green technologies.
Shoukry also reviewed the state's efforts to mitigate the repercussions of the global economic crisis, resulting from the current geopolitical tensions, and the rapid measures taken by the state to support economic stability, stimulate investments, and protect the most vulnerable groups in society as part of the government's ambitious economic reform program since 2016.
Hafez concluded his statements by noting that the Foreign Minister touched on the upcoming Egyptian presidency of the 27th session of the Conference of Parties to the United Nations Framework Convention on Climate Change, which will be held in Sharm el-Sheikh in November.
He eagerly hoped for the conference to witness the active participation of all parties concerned with international climate action, including representatives of private sector, and that the conference will give them the opportunity to present their efforts in this regard, based on the important role played by the private sector in efforts to confront climate change.
The Foreign Minister added that the visit of the delegation of the US GreenTech Business Mission represents a step in the right direction in terms of efforts to transform climate pledges into a reality on the ground.