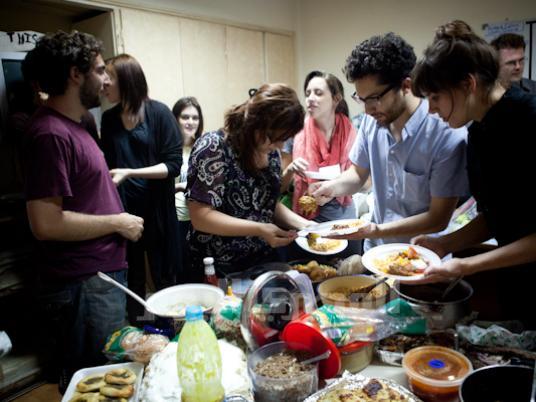 The Egypt Independent staff gathered with a quest: to get to know each other better through our diverse culinary roots.
Charged with cooking food that had local relevance to each individual, reporters, freelancers, editors and copy editors mused over their multiple heritages. From the Midwestern US to Italy and Iraq to Vietnam, the staff came up with an eclectic meal of salads, appetizers, main dishes and desserts that were collectively devoured.
Culture writer Helen Stuhr-Rommereim brought ground beef and buns for "loose-meat sandwiches," an Iowan specialty. Managing editor Lina Attalah pointed out the similarities between the Iowa dish and a popular food in Darfur in the Sudan.
Reporter Mohamed Elmeshad represented Sohag with weika, an okra soup with a tomato sauce. Writer Sarah Elmeshad sent along Delta-style "yellow koshary," a traditional pasta dish cooked with yellow lentils and topped with "mizalil" eggs, which are boiled and then fried.
Heading back across the world to the US, reporter Maggie Hyde brought west Texas chili with beans, onions and a tomato base.
Photographer Virginie Nguyen cooked Vietnamese rice with peas and carrots, saying she made it vegetarian by omitting the chicken and keeping only the eggs.
Reporter Sarah Carr was left with little to eat as a vegan, but opted to bring a lentil salad from what she said was her native world of "the Internet."
"I adapted the recipe and changed it to my liking, adding tomatoes and onions and lots of garlic," Carr explained.
Freelancer Marcus Benigno made us tiramisu. He replaced the mascarpone cheese with cream cheese, but brought all the flavors together with rum.
"I'm not Italian but my last name is," Benigno said, "and I love tiramisu."
Social media guru Nadia Ahmed spent hours soaking chickpeas and boiling meat for her Iraqi temman queema, a meat, chickpea and tomato dish with the consistency of dhal.
"It's a traditional dish for pilgrims," she said. "You can buy the chickpea s presoaked in a can, but it doesn't produce the same taste."
Reporter Nadine Marroushi brought green olives and manaeesh, flatbread topped with spices, with zaatar, a blend of herbs, from her native Palestine.
Copy editor Lindsay Carroll brought a crock pot of Pennsylvania Dutch chicken corn soup, a recipe that is traditional in her hometown.
Reporter Ali Abdel Mohsen hurried in with two dishes indicative of two native cultures of his own — an Omani grilled chicken dish from his time in Oman and a Dutch potato casserole from his years in the Netherlands.
"This is the first and hopefully last time I cook," Abdel Mohsen said. "I ruined too many things in the process."
Louise Sarant, the environment editor, grew up in Morocco and made her famous Moroccan tajine with chicken and cinnamon — a steaming pot with spices that enveloped the room when opened.
Many members of the Egyptian staff could trace their roots back to Turkey. Culture editor Mai Elwakil opted for a chicken bechamel.
"It has Turkish roots," Elwakil explained, "and so does my family."
Writer Amany Aly Shawky also tapped into her Turkish roots with a plate of shish kebab.
"Like most foods, it has been adopted and made 'Egyptian,'" Shawky said. "But its origins are Turkish."
Copy editor Sara Edmunds brought her version of her family's sweet potato casserole, using melted marshmallows and baked with walnuts instead of pecans.
"This dish is from Tennessee," Edmunds said. "It's sweet and has brown sugar."
Reporter Heba Afify, whose mother has often brought us cake for our morning meetings, walked in with not one but two dishes: kofta with red sauce in one large clay cooking pot and baked rice, roz moamar, in the other. Both dishes came from her family's home in southern Egypt.
"I also brought aged cheese, 'gibna adeema,'" said Afify. "We eat the cheese with the kofta at home, but I don't expect you all to do the same — it's a bit strange!"
News editor Max Strasser made a large bowl of matzo ball soup. The matzo balls are made with grain.
"It's very native to New York," explained Strasser. "It's been adopted by the delis there and is served almost everywhere."
Copy editor Jahd Khalil, who is half-Lebanese and half-Nebraskan, opted for a Nebraska T-shirt and a Lebanese mix of hummus and figs.
Lindsey Parietti, another copy editor, concocted a caprese salad with buffalo mozzarella and watercress instead of basil.
Potluck visitor and fellow journalist Liam Stack brought a salad native to his life in Cairo.
"It's a mixture of things I found at the local vegetable vendor," Stack said. "I make salads like this all the time."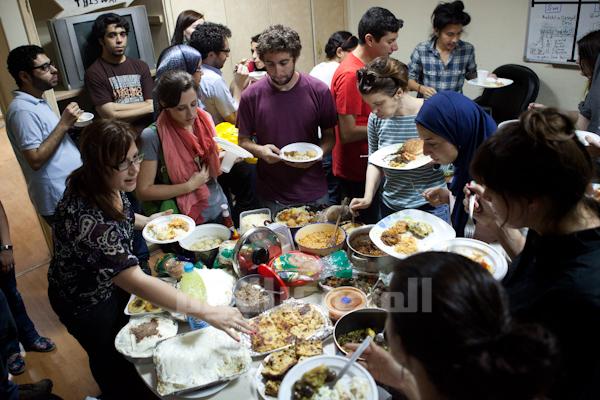 As for myself, I tracked down a local dish from Daqahlia, from where my father hails, and came up with fiteer mishaltit, baked dough with butter. The dough can be eaten with molasses, honey or salty cheese and, according to the baker, is actually native to Monufiya.
"The only thing you can find in Mansoura [the capital of Daqahlia] is pretty girls," said Abdel Rahman, who baked the fiteer. "You could bring those to your potluck."
This piece was originally published in Egypt Independent's weekly print edition.