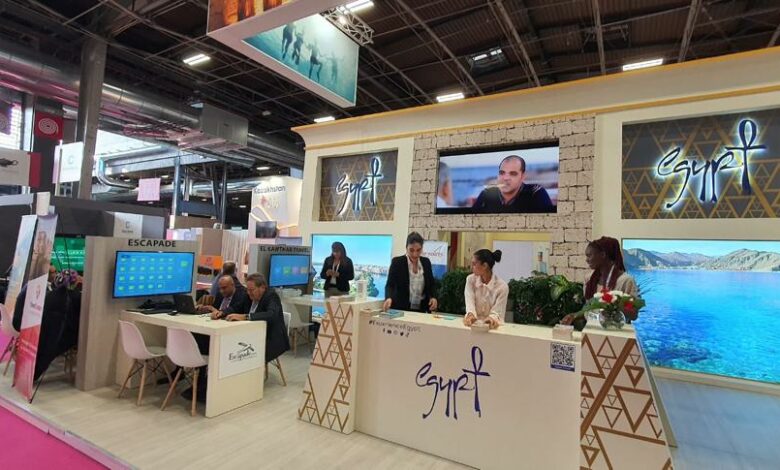 The Ministry of Tourism and Antiquities participates in the international tourism exhibition IFTM TOP RESA in Paris, running from September 20 to 22, the Ministry of Tourism and Antiquities, said in a statement.
The IFTM TOP RESA international tourism fair is the top tourism fair in France, and it is considered one of the five most important international tourism fairs, Amr al-Kady, CEO of the Egyptian General Authority for Tourism Activation, explained, pointing out that Egypt has always been keen to participate in the exhibition.
IFTM TOP RESA represents a large gathering of tour operators, tourism and airline companies from more than 40 countries, he added.
IFTM TOP RESA is a great opportunity to display developments in the tourism sector in Egypt to officials and decision-makers in these companies, which contributes to more international tourism flows, especially from France, to Egypt.
On the sidelines of the exhibition, Kady held a number of bilateral meetings with senior tour operators and French airlines, during which he reviewed the attractions of the Egyptian tourist destinations and the developments in the tourism sector in Egypt.
Kady also spoke about the efforts made by the Egyptian government to develop and modernize infrastructure, including main roads, airports, and new cities, as well as the development, restoration and maintenance works at archaeological sites and museums across Egypt, which contribute to improving and enriching the tourist experience.
Kady presented the most important events that Egypt is holding in 2022, including the celebration of the 200th anniversary of the deciphering of ancient Egyptian hieroglyphs and the emergence of Egyptology, and the 100th anniversary of the discovery of King Tutankhamun's tomb, as well as hosting the UN COP27 in the city of Sharm el-Sheikh in November.
He pointed out that these events contribute to the promotion of tourism to Egypt, especially in the French market, as the French tourist has a great passion and interest in cultural tourism.
Kady referred to promotional campaigns that the authority will launch in the main markets exporting Egyptian tourism, especially the winter campaign.
Egypt is participating in the IFTM TOP RESA 2022 with a pavilion of 119 square meters, which was designed in the form of a temple in a modern form. A number of Egyptian tourism companies and hotels, in addition to EgyptAir are taking part in the event.
The pavilion includes a display screen to display films and various propaganda materials about Egypt. Many pictures of various Egyptian tourist destinations are displayed in the pavilion.