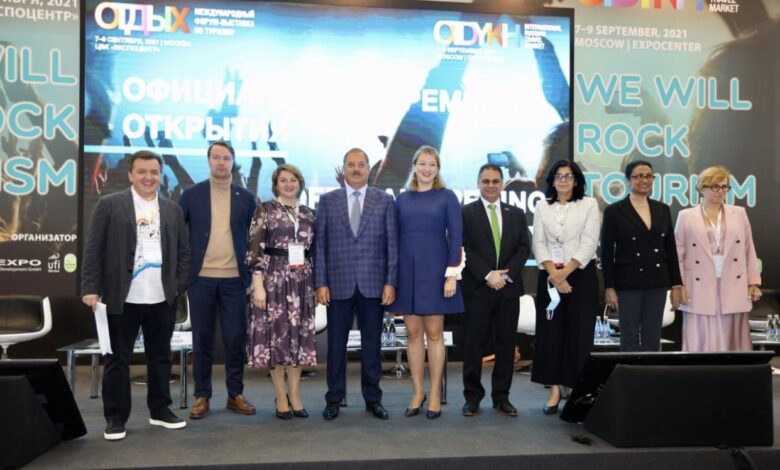 Egypt's Ministry of Tourism and Antiquities is participates in the 27th international exhibition for tourism and travel OTDYKH Leisure 2021 currently being held in Moscow from Tuesday from Thursday.

The OTDYKH Leisure is one of the largest tourism exhibitions in Russia and Egypt is participating as a partner country in it this year, according to a statement by the Tourism and Antiquities Ministry.
The CEO of the Egyptian Tourism Promotion Authority Ahmed Youssef and the Egyptian ambassador to Russia Ihab Nasr, inaugurated the Egyptian pavilion at the exhibition, in the presence of a delegation from the authority.
Youssef stressed the importance of taking part in the exhibition due to the importance of the Russian market for Egyptian tourism, especially that Egypt has been absent from the Russian market over the past six years, before flights were recently resumed.
The event is also important especially after announcing the Year of Human Exchange (2021-2022), which includes organizing tourism, sports, cultural and artistic events in both countries, he added.
The authority has carried out many events in this regard, he noted, including hosting several prominent media professionals and journalists from Russia, bloggers, influencers and digital content makers on social media regarding trips to various Egyptian tourist cities.
According to Youssef, the Egyptian pavilion in the exhibition witnessed a remarkable turnout, with promotional souvenirs distributed to visitors.
After participating in the official inauguration ceremony, Youssef then joined a dialogue session where he talked about the developments of tourism infrastructure and Egypt's major projects in the tourism business sector.
 He also reviewed the precautionary measures taken by the Egyptian government against coronavirus.
The ministry is participating this year with a pavilion of 150 square meters that has six exhibitors representing a number of hotels operating in the Russian market, in addition to the EgyptAir, Walid Hussein, head of the central administration for technical affairs at the Tourism Promotion Authority, said.
He added that the Egyptian pavilion was designed distinctly, reflecting the diversity of country's tourism products and inspired by the edifices of ancient Egyptian temples.
The spaces have been designed differently to maintain a safe distance between visitors, while fully adhering to the precautionary measures, he continued.
During the exhibition, a series of meetings will be held with the most prominent travel agents and specialized decision makers from businessmen, tour operators and official in Russia and various international participating parties.
A series of press and television interviews with the most prominent international news agencies, newspapers and television channels will also be held, Hussein said.
According to the Tourism and Antiquities Ministry, 780 exhibitors from 50 countries will participate in the exhibition this year, representing major international agencies specialized in the tourism sector, including hotels, tourism and aviation companies.
It is attended by about 65,000 visitors annually.