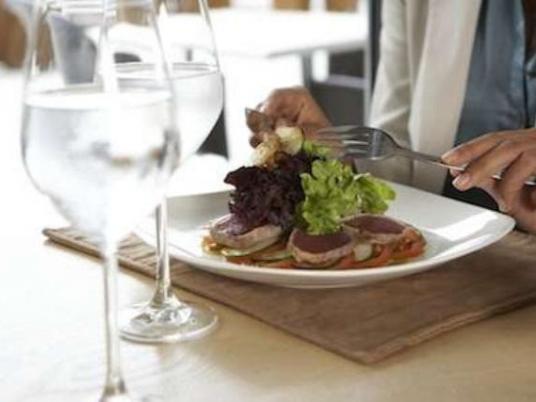 Egypt's Chamber of Tourism Establishments, headed by Adel al-Masry, announced its plan for the partial reopening of restaurants and tourist cafeterias in Egypt, which will take place in accordance with a set of regulations.
The regulations were stated in an official letter dispatched to members of the chamber's general assembly.
Restaurants and cafeterias willing to reopen should first submit a request to the Chamber of Tourism Establishments, after which the chamber will notify the Tourism Ministry and inspect the restaurant or cafeteria before granting it a permit to reopen.
In order to reopen, the facility must place hand sanitizers at entrances and exits and devise a system to organize customers so as to prevent crowding and maintain social distancing. Such a system may include requiring customers to make an online or phone reservation, the letter said.
Every facility should also take customers' temperatures upon entry, as well as the temperatures of its employees, once a day before the start of operations.
Disinfection should be carried out periodically, especially of places people frequently touch, such as door handles and water faucets.
All facilities should provide adequate indoor ventilation and should periodically clean air-conditioning vents.

Facilities should prevent crowding in toilets and should set social-distancing guidance marks on floors in order to regulate customers' movement.
Open buffet service is banned. Facilities should rely on preset menus and leave a space of no less than two meters between dining tables, as well as one meter between people sitting together at the same table.
The chamber recommended the use of disposable silverware, or to at least give guests the option.
Paper napkins should be placed on tables and home delivery should remain available.

Hookah smoking, parties, special events and nightlife activities remain banned.
Each facility should also commit to employing only 50 percent of its workforce.
Personal protection and hygiene tools should be provided to workers.
Elderly workers or those who suffer from chronic diseases should not be employed, except in certain jobs.
Workers should be educated about preventive measures against coronavirus, as well as signs and symptoms of the disease.
Elevator capacity should be reduced and children's play areas should remain closed.
Each facility's manager will sign an avowal of commitment to the rules and conditions stipulated by the chamber, and an assurance that they will report any suspected case among the facility's employees.
If any facility violates regulations, its manger's license will be revoked and the facility's activities will be suspended.
Edited translation from Al-Masry Al-Youm