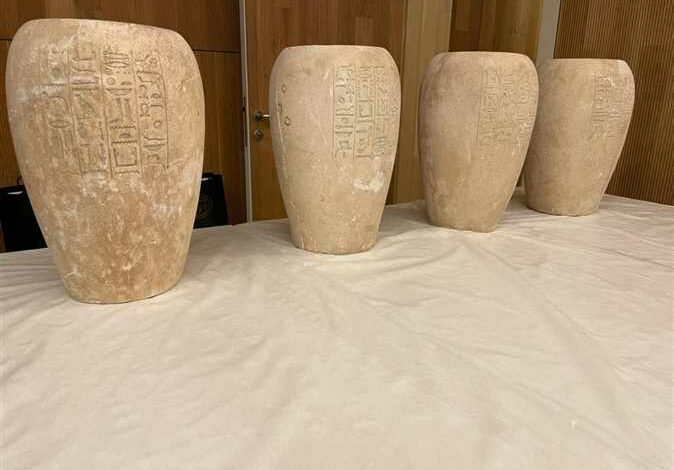 The Secretary-General of the Supreme Council of Antiquities, Mostafa Waziri, said that the issue of recovering smuggled antiquities outside of Egypt is of most importance for the Council and the Ministry of Tourism and Antiquities.
He added that there is a department dedicated to recover smuggled antiquities that has now been established to combat such issues and is headed by Shaaban Abdel-Gawad.
Waziri stressed that Egypt will not waste a single artifact smuggled out of Egypt illegally.
There are over 29,000 artifacts have already been recovered over the past few years.
In this regard, Abdel-Gawad, head of the Department of Recovered and Smuggled Antiquities at the Supreme Council of Antiquities, confirmed that many illegally smuggled artifacts taken abroad  have been detected and have not been recovered so far.
These antiquities were placed in a list under the name of the "Red List" so that Egypt would officially demand them back from the concerned authorities with Interpol intervention in the event that illegal sale was spotted.
Abdel-Gawad explained that these artifacts represent the types of archaeological cultural property that are legally protected and subject to the prohibition of illegal rent.
The list included statues from the Predynastic era the ancient era, the Pharaonic era, and the Nubian era," such as statues made of pottery, metal, and stones.
The list includes pots and containers of pottery and stones, funerary items, architectural items, religious or ritual portraits, coins, and manuscripts.
Egypt recovered many artifacts from around the world in 2022, most notably:
Six artifacts from the Metropolitan Museum.
A wooden coffin covered with a layer of colored plaster depicting the face of a woman.
A limestone plate with hieroglyphs inscriptions.
A piece of linen decorated with colorful drawings that tells the story of the crossing of the Red Sea, divided into five small pieces.
A bronze statue of a man kneeling.
A cabin made of limestone decorated with colorful carvings of the chief musician.
A funerary painting from the Fayoum portraits depicting a woman from the Roman era.
Nine rare artifacts, including a piece of gold coin dating back to the Ptolemaic era.