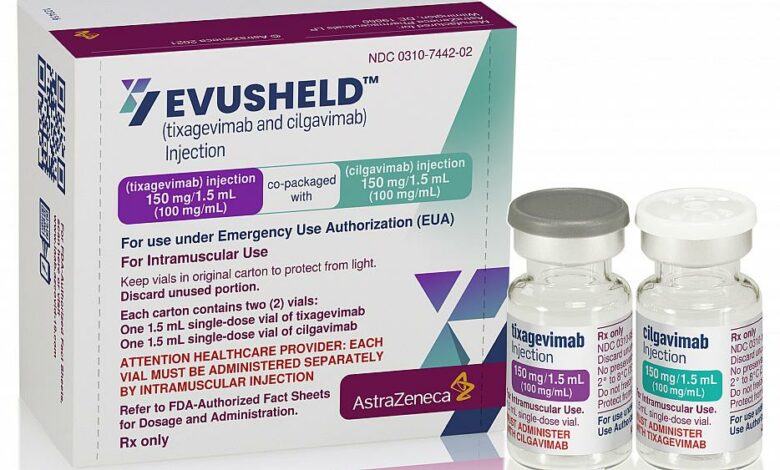 Egypt is set to receive its first shipment of AstraZeneca's Evusheld COVID-19 drug on Tuesday, Health and Population Ministry spokesperson Hossam Abdel-Ghaffar announced, which will treat symptoms of the disease in sufferers.
The state-owned Al-Ahram newspaper reported Abdel-Ghaffar as saying that the drug is taken by injection, and that Egypt had contracted to supply enough doses to treat 50,000 people.
The newspaper pointed out that Health and Population Ministry contracted two types of tablets, and a third type of injection, which obtained approval from the US Food and Drug Administration, in order to confront coronavirus pandemic and its variants.
AstraZeneca's Evusheld (tixagevimab co-packaged with cilgavimab), a long-acting antibody combination for the prevention of COVID-19, received the emergency use authorization from the Egyptian Drug Authority (EDA) last week.
The EDA's announcement on Sunday comes in the wake of the agreement signed by AstraZeneca in December to supply Evusheld with the Egyptian Authority for Unified Procurement and Medical Supply and Technology Management.
The drug will be used with the aim of providing protection to groups at risk as a result of their inability to generate an adequate immune response after receiving the COVID-19 vaccine due to previous health conditions such as leukemia, chemotherapy, being on dialysis and other health conditions.
Earlier in August, AstraZeneca announced that Evusheld demonstrated a statistically significant reduction in the risk of developing symptomatic COVID-19 in the PROVENT trial: efficacy was 83 percent compared to placebo in a six-month analysis announced on November 18.
"In December, Evusheld proved retaining neutralization activity against the Omicron SARS-CoV-2 variant, according to authentic 'live' virus neutralization data from both University College Oxford, UK and Washington University School of Medicine, St. Louis, US," the website reads.