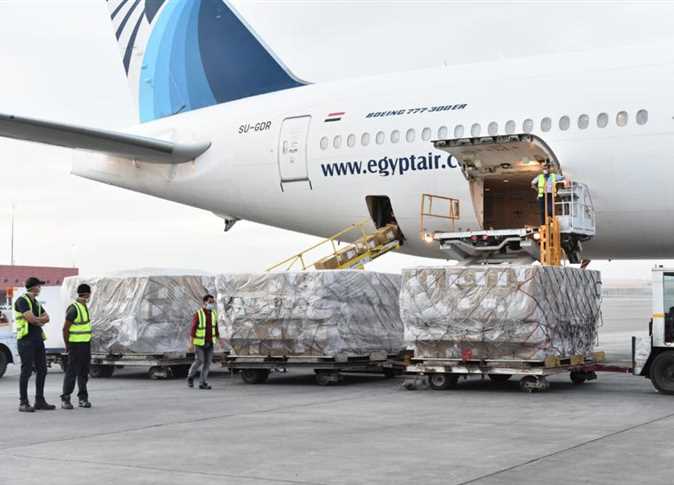 Egypt's Health Ministry announced on Saturday that it has received a third shipment of medical supplies from China to combat the coronavirus pandemic.
Minister of Health and Population Hala Zayed thanked China for this third gift, and stressed the strength of the bilateral ties between the two nations.
The shipment's delivery was attended by Deputy Minister of Health in Cairo Mohamed Shawky on behalf of the Minister of Health, the Chinese ambassador in Cairo Liao Liqiang, and the Assistant Foreign Minister for Asian Affairs Hani Selim, according to Health ministry spokesperson Khaled Megahed.
Megahed added that this third shipment is larger than the previous two shipments, containing 30 tons of preventive medical supplies which include one million regular facemasks, 150,000 N95 facemasks, 70,000 sets of preventive medical clothing, and 70,000 medical gloves.
The shipment also includes 70,000 rapid testing kits and 1,000 temperature measuring devices.
According to Megahed, the shipment was completely sterilized and all precautionary measures were taken upon arrival at Cairo International Airport this morning.
This third batch is the final of China's medical supply shipments.
The first shipment was received in April with four tons of preventive medical supplies, while and the second was received on May 10 at four tons which included 70,000 testing kits, 10,000 medical N95 facemasks, and 10,000 sets of protective clothing.
Deputy Minister of Health in Cairo Shawky said that these supplies will be distributed to isolation, chest and fever hospitals across the country.
Liqiang praised the effective measures Egypt has taken to confront the coronavirus, which he says has also been acknowledged by the World Health Organization.
The delivery of these gifts coincides with the upcoming 64th anniversary of the establishment of diplomatic relations between Egypt and China on May 30, the Chinese ambassador noted.